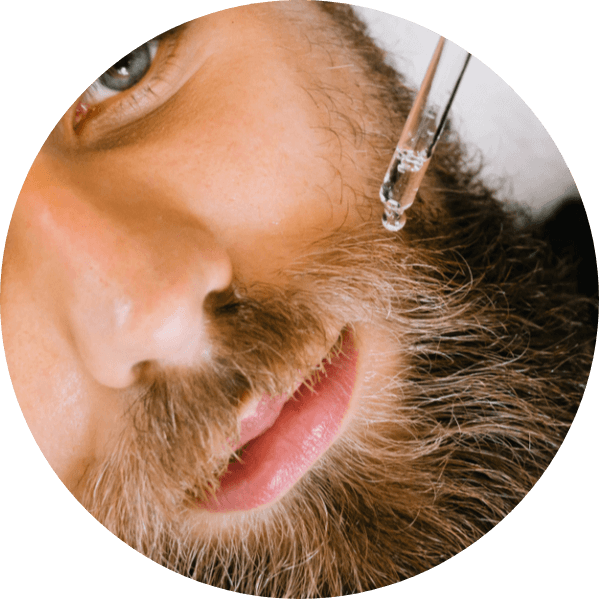 Minoxidil is a number one medicine intended to treat baldness. As we all know, it stimulates hair growth on the scalp. However, we can use it to efficiently grow a beard with a mustache and increase its density.
Scientists discovered an interesting fact concerning beard treatment with minoxidil. As the multiple experiments proved, the hair in the beard area that appeared from minoxidil in most cases remains even after the suspension of the medicine (unlike scalp hair). Consequently, it's possible to thicken beard in one year, cancel the use of minoxidil forever and save the results.
How exactly does minoxidil work for a beard?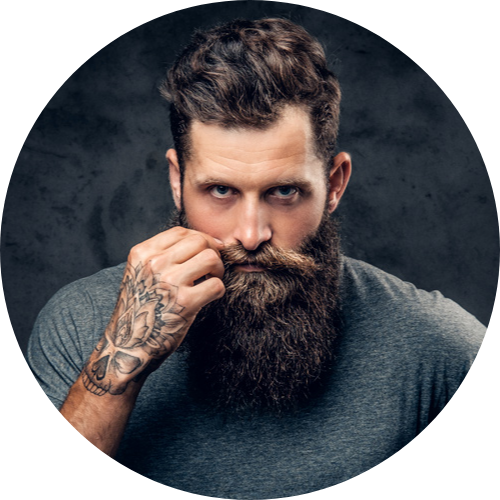 Minoxidil activates blood circulation in the vessels, nourishing facial hair. In their membranes of smooth muscle cells, minoxidil opens potassium channels. It allows hair to grow faster and look strong and healthy.
Minoxidil has vasodilation properties. It helps to relax the muscle layer in the vascular walls, increasing the lumen in the vessels and, accordingly, increasing blood supply. As a result, this process leads to a noticeable increase in the nutrition of the hair follicles. Consequently, the hair moves to the phase of intensive growth.
Which result can I achieve using minoxidil for a beard?
Minoxidil allows you to significantly increase beard density, as well as to grow facial hair where there was none at all. It turns fluffy blonde hair into the terminal dark.
How long should I use minoxidil to grow a beard?
In rare cases, people get the first results in two months. Usually, it takes six months or more. For the completion of the treatment course, you need 12 months. If you made a mistake choosing the dosage of the medicine, you should continue the treatment with a higher dosage.
As a matter of fact, after 3-5 months of regular daily use of minoxidil, you will see the first results of your efforts. Instead of the small weak hairs that unevenly cover the cheeks and chin, you will see how thick and rough ones replace them.
It should be mentioned that you will get a dense beard under any circumstances if you use minoxidil as it is prescribed. However, the time needed to obtain the result may differ in people. It mostly depends on the state of your organism, immune system, and hair health.
It is more than 20 years as minoxidil has been used for beard growth. During this period, there has been no case when after regular usage of the prescribed dosage, a patient couldn't obtain the desired result.
How often can I use minoxidil?
You can use it twice a day in the morning and the evening. If the morning procedure causes some inconveniences, you can use it only once a day at night. But for maximum results, stick to the two-time regime.
How much minoxidil should I use?
Use a graduated pipette; apply 1 mg of solution calculated to both cheeks. If you grow long stubble, you need more medicine, as it lingers on hair. If you also use it on the neck, then increase the amount to 1.5 to 2 mg. Apply the medication on dry skin with massage movements. And always remember, minoxidil is used only as a topical solution or foam to apply on the skin.
Will beard lose density after the end of minoxidil therapy?
It's possible in the early stages. However, if the therapy lasts 12 months or more, then you will remain the result, and it will never reverse. After 12 months, you need to gradually reduce the frequency of usage and stop the procedure for several months.
Here are some best brands of Minoxidil we recommend you. They are on the market for many years and are proven to work for millions of people: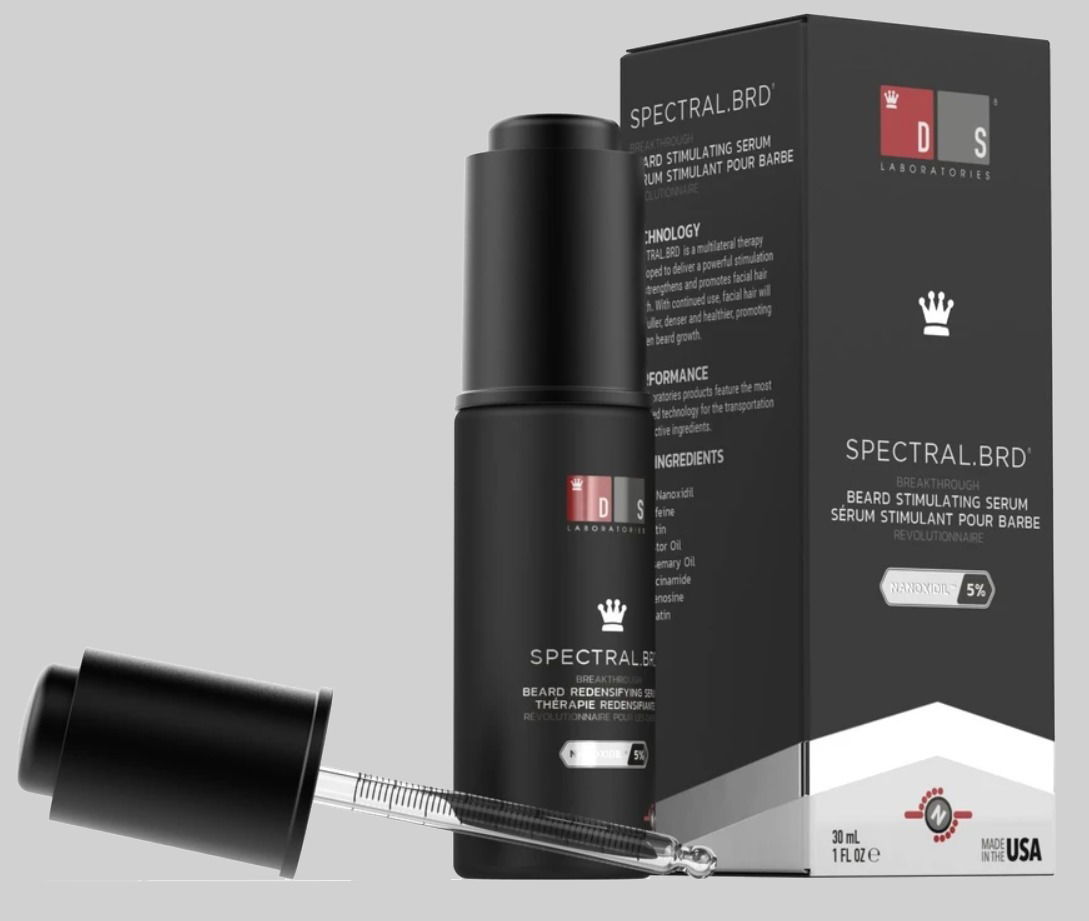 1) SPECTRAL.BRD - special formula for beard growth!
Designed by DS Laboratories, Spectral.BRD is a breakthrough serum that offers an integrated approach in reducing patchiness and improving the even coverage of your facial hair. For a thicker and fuller beard, DS Laboratories has combined the most effective, clinically proven ingredients to create a serum that promotes fuller density, stimulates growth, and improves facial hair quality.
Check Price: DS Laboratories.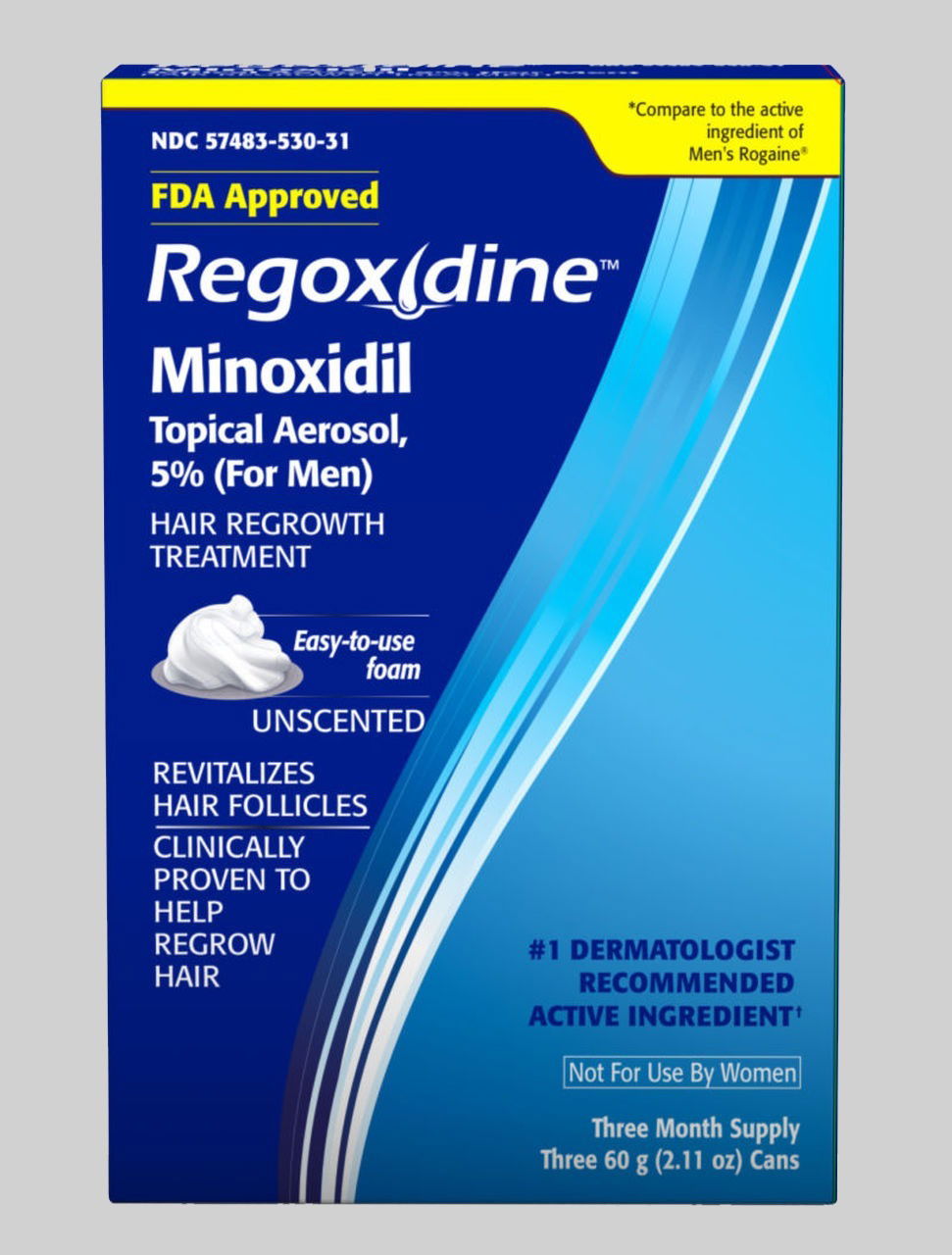 2) REGOXIDINE - foam.
Designed by Innovus Pharmaceuticals Inc., Regoxidine® is comparable to the leading men's topical hair growth foams. Easy to use and fit into your daily routine. This unscented foam was primarily designed to confront baldness, however, it can be used to treat patchy beard and induce the growth of full, dense facial hair.
Check Price: Buy and Save 10% Sitewide With Code REGOXIDINE10!
Side effects
It should also be noted that, when applied on the face, minoxidil has no side effects. The only exception might be the cases of personal intolerance to the substance. If you notice itching or other forms of irritation on the areas where minoxidil is used, you should stop the treatment. However, such cases are extremely uncommon.