There are mainly two types of beard oils - for beard growth and beard care. As you already guessed, in this article, we will discuss only beard care oils. If you need to stimulate facial hair growth, then we advise reading our article about beard growth oils and choose there the appropriate product. If your facial hair doesn't need growth inducement, then your primary mean of beard care should be the products we discuss in this article.
Why do we need oils for beard care?
Oils for beard care have multiple benefits. First and foremost, they soften facial hair and make beard obedient. Moreover, oils retain moisture in the skin and hair. They are full of beneficial substances needed to feed both the skin and hair. But most importantly, oils treat itching, heal wounds, nourish the epidermis, and stimulate hair follicles.
How to use beard oil?
If you use beard oil one time, it won't reveal all benefits. It will only temporarily improve the beard look. Use it regularly for a long time (4-6 months), and you will feel the real results.
The process of applying is easy - rub 3-4 drops on the fingers and apply on the beard. Apply it only on a dry, washed beard. Rub it from above down to the length of beard with slow movements. Then, comb your beard to distribute the oil evenly. It is better to use a comb made of eco-friendly materials, such as wood, or bronze. Such accessories do not accumulate static electricity and are very pleasant in use!
What are the ingredients of beard oil?
It is not hard to guess that the primary ingredient is oil. However, beard oils are composed mainly of two sorts of oils - base and ethereal. In some cases, manufacturers add other useful substances like vitamins or amino acids.
Base oils are made mostly of seeds or nuts: macadamia, grape seed, jojoba, argan, or almond. The main benefits of this product are due to these valuable oils. They nourish and moisturize the skin and hair, heal split ends, soften a beard, and make it shine.
Ethereal oils are necessary as well. We obtain them from various plants. One drop of these oils is strong enough to change the structure of the product. That is why their concentration in the product is not high. Ethereal oils protect hair, stimulate blood flow to the hair follicles, and often act as a natural antiseptic. They also give the product a light aroma of the plant they are made of.
The best option according to HairGC:
Beard Oil 5 Scent Variety Pack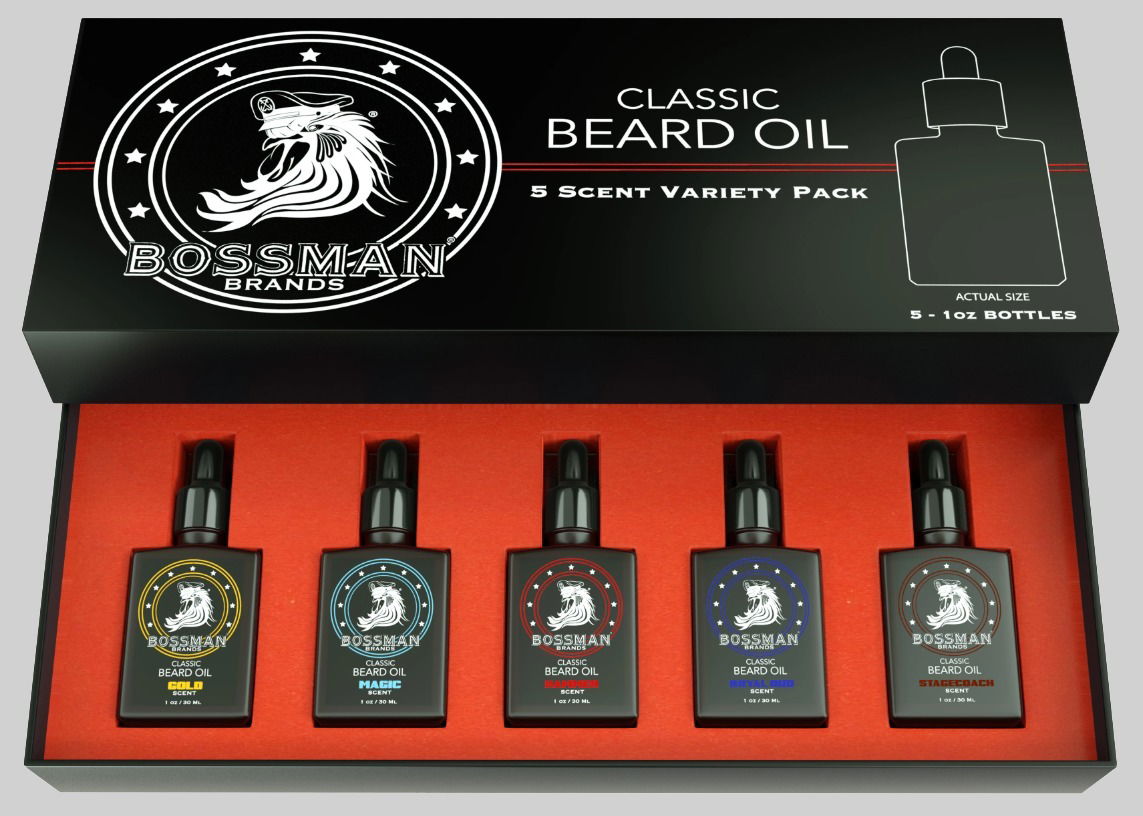 Bossman's Beard Oil strengthens and softens hair, relieves itching and irritation, has a great long-lasting scent. Bossman's beard oil is exactly what you need to keep your beard looking, feeling, and smelling fresh all day long no matter how active or grueling the lifestyle.
Check the price on Bossman Brands!