Growing a beard requires much effort, time, and money. There is no chance to obtain a shaped and groomed beard without proper beard care products.
If you want to have a stylish beard, first and foremost, you should wash it. Don't even think to use an ordinary shampoo for this task - facial hair needs special treatment. That is why almost all beard care brands have their own product lines of shampoos and soaps created to cleanse rough beard hair from oil and dust. The market is full of such products, and it's hard to choose the proper one. Let's discuss which features are essential in these products and make our list of top brands.

Soap for beard
Neat, groomed, and tidy beard is a result of daily efforts. Without the proper washing of facial hair and face skin, pores and hair follicles may fill up with dead cells, fat, and dust. Consequently, it may cause such diseases as inflammation, itching, and allergies.
One of the biggest mistakes beginners make when growing a beard for the first time is to neglect the importance of its proper washing. They think that water and toilet soap will be enough. However, as they gain more experience in beard care, they understand how significant it is to use special beard soap as it has a list of benefits:
Cost-effectiveness - one bar of soap serves for several months;

All our recommended beard soaps contain only natural ingredients without preservatives, dyes and unpleasant fragrances;

It has a comprehensive effect;

It softens bear hair.
Beard soaps differ from mere toilet soaps by consistency and price. Beard soaps soften facial hair, as they do not contain animal fat, mineral oils, alkali, or other corrosive substances. Its primary ingredient is a combination of vegetable oil and mild surfactant. Some brands add activated carbon, pumice, clay, or essential oils.

Solid shampoo bar
This product can replace beard soap. You can find specific or universal solid shampoos on the market. The solid shampoo has a list of benefits:
Softly disinfects and cleans facial hair;

Removes the cause of dandruff, normalizes the function of the sebaceous glands;

Treats itching and eliminates nasty odor;

Moistures and feeds hair with the necessary substances, microelements, vitamins;

Contributes to the restoration of the hair structure, makes it easy to comb.
The regular usage of solid beard soap makes facial hair clean, groomed, and soft. And most importantly, it maintains this effect for a long time.
You may also find specific beard soaps that contain various vitamin complexes or other potent substances. For instance, castor oil stimulates the hair roots and normalizes the function of blood vessels. Coconut oil induces the process of damaged hair treatment and gets rid of split ends. The combination of jojoba oil with vitamin E is the best option in case of patchy beard and uneven hair growth.

How often should I wash my beard?
You can use beard soap daily and shampoo 3-4 times a week. If you suffer from the increased function of sebaceous glands, you can wash your beard at least once a day. On the contrary, men with dry skin should abstain from frequent cleansing.

How to use soap and solid shampoo?
Wet your beard and move the bar through several times, then massage your beard until the foam appears. Then, wash this foam off, and the procedure is over.
Do not use a hairdryer. Instead, use a special oil or balm (see our articles about beard oils and beard balms), and styling products. It's better to buy products with the same aroma. Otherwise, you can get an obscure, mixed smell.
The best cho

ic

e accord

i

ng to Ha

i

rGC
Bossman brand
Bossman soap for men is made with an all-natural selection of healthy oil blends, butter, and non-toxic cleaning agents. Unlike most soaps out on the market today, Bossman soaps contain no foaming chemicals that strip and dry out your beard, hair, and skin. It will leave you clean and moisturized while prepping your beard for the next step in your grooming routine.
Ingredients: Saponified oils of Sunflower, Coconut, Palm, Oats, Cacao Powder, Plantain Leaf Powder, Charcoal, Shea Butter,Virgin Coconut Oil, Safflower (with retained glycerin) and Rosemary Extract.
Essential oils scent of Geranium, Lavender, Vanilla, Rosemary, Patchouli.
Check the price: Bossman brand beard soap!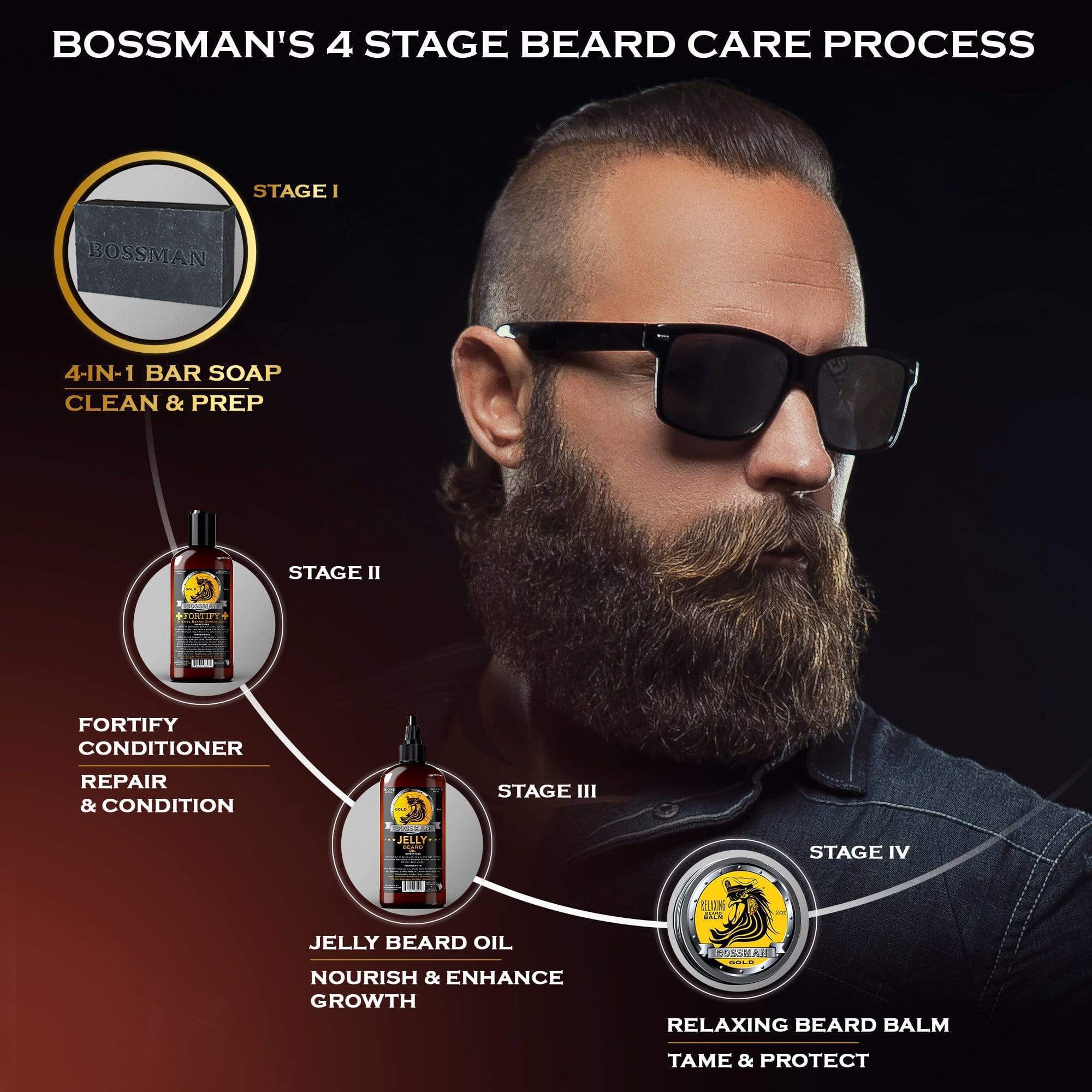 4 stages of Bossman brand beard care. Check the products!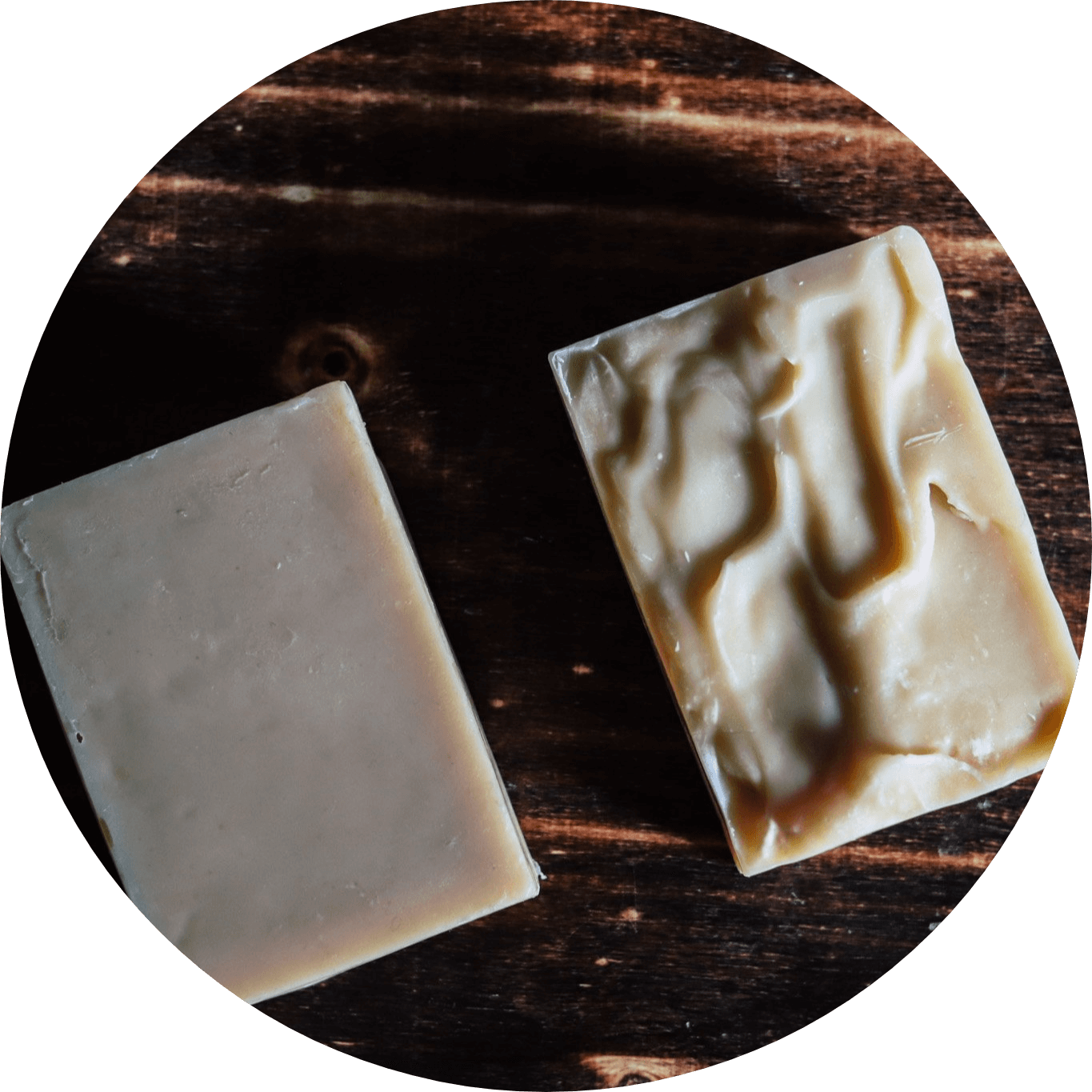 Conclusion
The path of beard growth is never easy. Every experienced bearded guy knows how important it is to use proper beard care products. So, follow our advice and do not save your money on such essential beard care means as soap or shampoo. Once you try them, you realize their significance.