How to grow a beard?
First and foremost, you should realize that beard growth requires much effort and time. But it's true only if you wish to have a dense, long, and rightly groomed beard.
Some men prefer a clean-shaven face and do not bother about the additional nuisance as beard care. In other cases, you should be patient and use a lot of effort if you want to grow a beard that forms your style. If you allow your beard to grow for its own, it will only make your appearance dirty.
Our blog will teach you how to grow a beard, make it dense, groom, and shape according to your personal style.
Beard for brutality?
Have you ever noticed how girls react to beardy, brutal guys? Merely recall the main characters from the famous movies as Captain America from Avengers: Infinity war, or The 'King Leonidas' from 300. Or let us dive deeper and bring to the stage the new God of War game series and its main character "Kratos" with a new beard - the level of brutality is off the scale! Surprising as it may seem, but girls go crazy about such brutality!
The list of celebrities with a beard is long - Keanu Reeves, Tom Hardy, Gerard Butler, Kit Harington, etc. A beard reveals the man's genuine nature, and that is why these movie stars are so impressive on the screen. Moreover, each celebrity has their army of barbers who know how to grow and professionally groom all sorts of beards.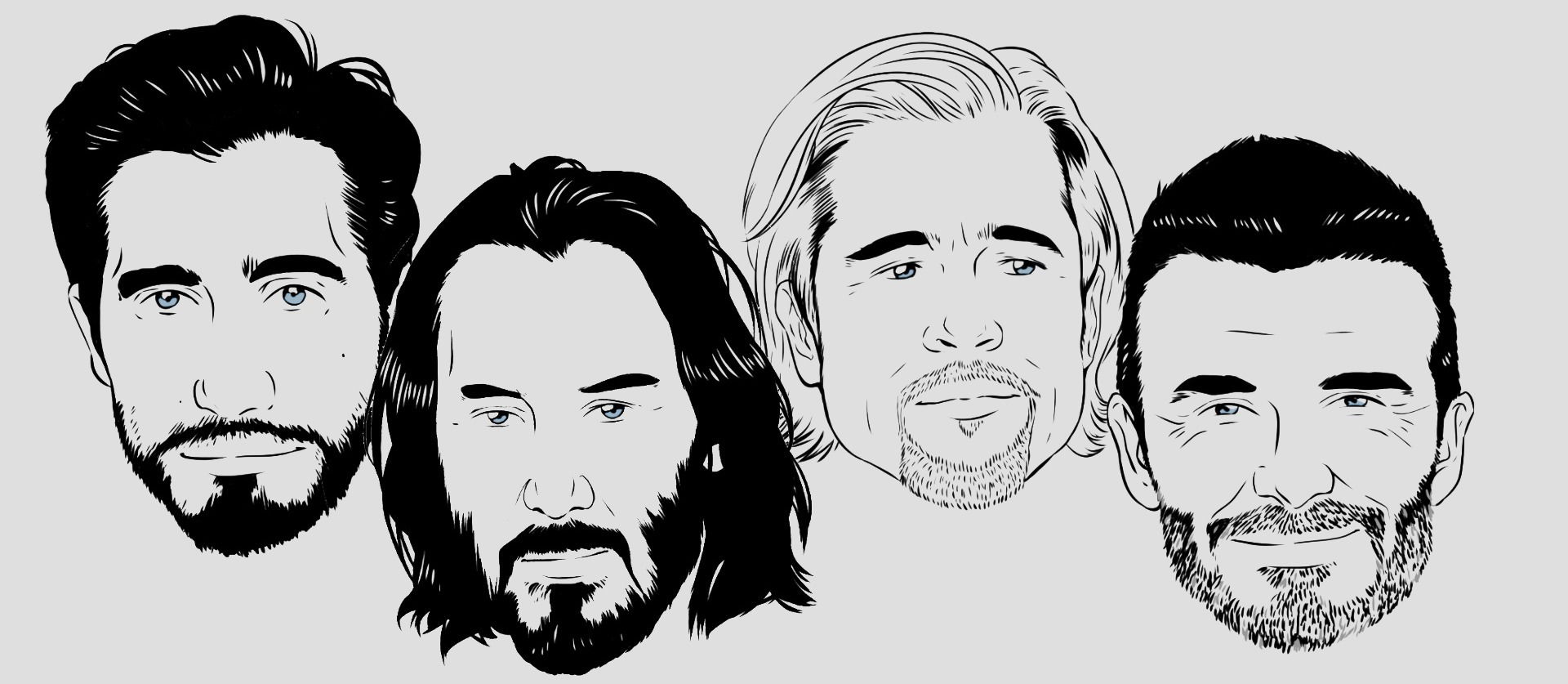 So you wish to have the same impact on people, but your beard is not good enough? There is no reason to get upset! If you follow all the recommendations in this blog, soon, everyone will admire your beard and envy your brutality.
How to start?
First, let's make it clear! Our goal is not to have a beard, as Robinson Crusoe had. In this case, you can settle on the desert island, and you will get the beard you want. Our goal is to have a neat, groomed beard that fascinates and inspires everybody.
Note: We do not recommend growing a beard if your facial hair grows uneven. This cosmetic imperfection is typical for 14-16 years old boys due to unbalanced hormones. Unfortunately, this problem doesn't always disappear along with the teen ages. Many adult men suffer from a patchy beard, and without fixing this cosmetic defect, it will be hard to achieve the desired result. If you want to make your beard dense in a relatively short time, you can use Minoxidil for a beard.
Which beard style suits me?
Ask yourself this question! First, you should conclude which style you like and how you will feel in this new image. Keep in mind that every beard style suits to particular personalities. Moreover, don't forget that we still live among other people, and a drastic change in your appearance may shock others. So, dedicate some time to make your mind up and choose the most suitable style for you.
If you don't want to take a risk and decide yourself, you can always ask professionals. You have several options. You can send us a photo of your shaved face, and get a free consultation.
Or you can visit the local barbershop. But before you do, thoroughly read feedback as not every barber is a professional. It's crucial to entrust your precious beard to someone who has the experience and an army of satisfied customers. It goes to all stages of beard growth. The real professional chooses the most appropriate style according to the shape of your skull, and after, when your beard reaches the needed length, trims and shapes it ideally according to the initial idea.
If you have no desire to entrust your beard style decision to anybody, there is another way. Download an application on your mobile phone that lays different beard variations to your face. If you search, you will find plenty of such apps. It's the easiest way to visualize your future image with a beard. Even barbershops use this method.
Beard style depends on the face shape:
If you have an oval face shape, then you need to grow a dense beard. Widen it to smooth out the angularity. Nevertheless, if you have a long face, then forget about a wedge-shaped beard.
Wide cheekbones are the dream of every man! Don't shave for three days, and brutality is already guaranteed.
In case of a round face, never use sideburns and rounded corners. The trapezoid or square edges will suit you well.
If you have a triangular face shape, don't sharpen your beard. It is better to grow a square, trapezoidal, and medium-length beard.
Beard length:
To measure the right beard length, you have to take into account all features of your face and body, especially your height. We don't mean to be rude, but a short guy with a long, dense beard might look a bit odd.
Top 12 styles of beards according to HairGC: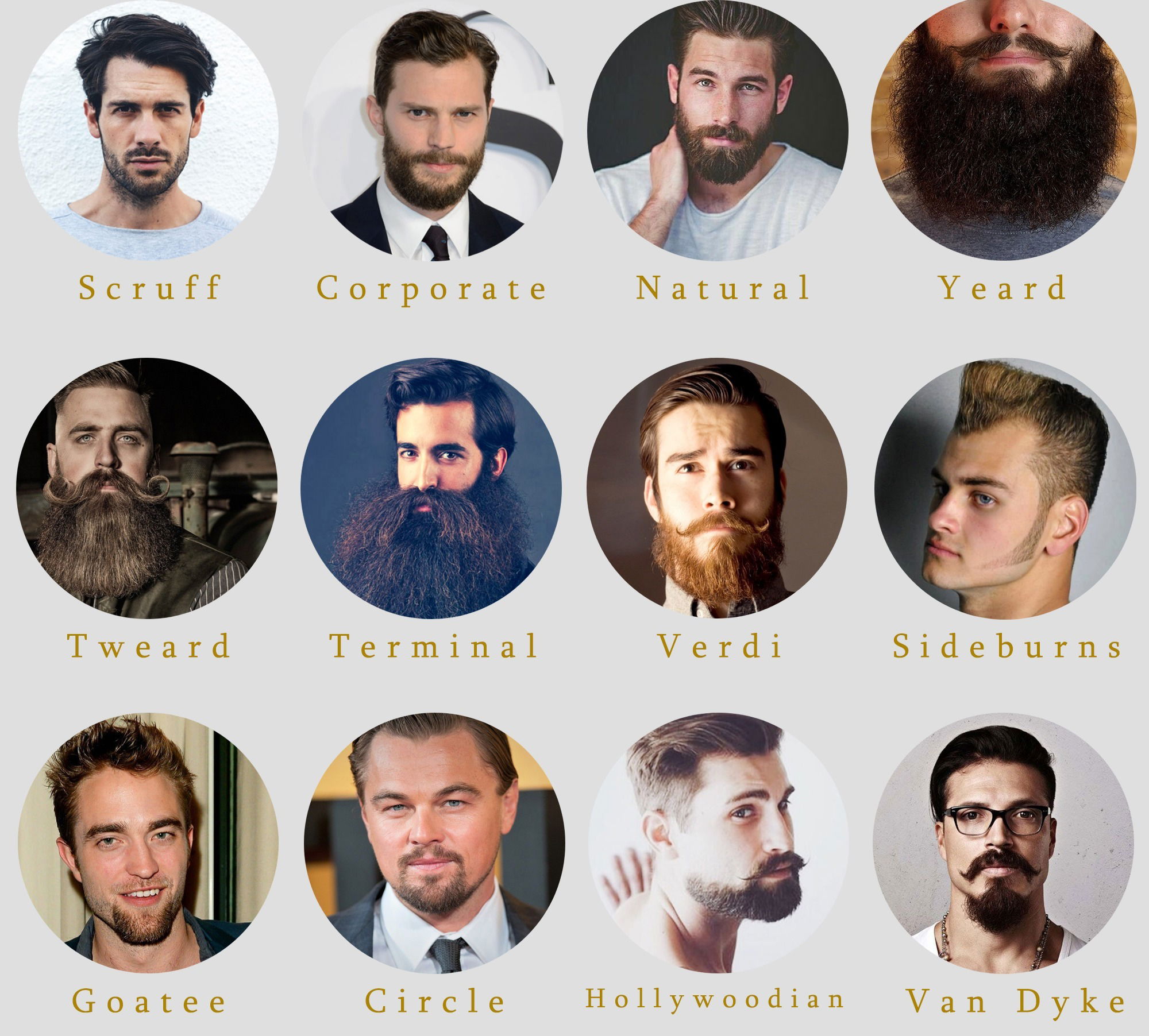 1) Scruff - A few days of growth. You can easily shape it in any style.
2) Corporate - Several weeks to several months of growth. You have to groom and trim it regularly.
3) Natural - Needs minimal interference.
4) Yeard - One year of uninterrupted growth. You can groom and trim split ends and flyaways.
5) Tweard - Two years of uninterrupted growth. You can groom and trim split ends and flyaways.
6) Terminal - Let your beard grow until it stops.
7) Verdi - Beard is bigger than a mustache. You have to neatly trim it.
8) Sideburns - Facial hair runs down the back of the jaw. Probably, the most popular partial beard style!
9) Goatee - Facial hair is shaped from the corners of the mouth down the chin.
10) Circle - One of the most popular styles. Goatee + mustache!
11) Hollywoodian - Consists of a beard along the jaw and a mustache but without sideburns.
12) Van Dyke - Mustache and hair on the chin come to a point on each side.
Pick the right one, and let's start the process.
The first month is the hardest for beard growth
We need no trimmers, razors, and blades. Well, at least for the first time. For the first month, don't dare to think about using shaving accessories no matter how hard the itching disturbs you. Believe us, it will itch anyway because the hair tips are sharp, and after a couple of weeks, they begin to bend and stab the skin. The neck is the most vulnerable part, as we rotate it all the time. Avoid wearing a scarf, as it can increase discomfort.
If the itching is unbearable, you have only two options:
Endure the pain! Stand in front of a mirror and say to yourself: "I'm a brutal man, I can do it!!!".
If you are not brutal enough to withstand this irritation, use a moisturizer or oil for beard. See our article about beard care products to choose the best option.
Note: Do not use products that contain alcohol even if you feel relief for a few minutes. Alcohol may worsen itching because it dries the skin.
After one month, you will already have a beard ready for shaping. Of course, beard length won't be enough to trim it ideally, but still, at this stage, it needs correction.
It will be tough to handle this mission by yourself, especially when you do it for the first time. Therefore, we recommend visiting a barbershop where you will get a professional service and properly shaped beard. After, you can keep this shape and level overgrown places with a trimmer or scissors.
However, if your goal is to grow a massive beard, you will have to wait and avoid doing anything stupid. Don't touch it even if hairs grow unevenly (this happens quite often). There is no guarantee that during the process of leveling the beard, you won't accidentally remove other pieces. Thus, hold tight and wait for the day when brutality replaces untidiness.
After two months, your beard will gain density and length. At this stage, you need to trim it with scissors regularly. A little and straight comb can make the process easier. It will help you to cut your hair in a straight line. Your wife's or girlfriend's ordinary comb won't be good for this matter. Never cheap out on such tiny details, buy your own comb. See the buying options on Bossman brand!
Now it's time to take care of your beard!
Don't be shy about using various skincare means. Men need skincare the same way as women. For example, if you exfoliate your face skin with a proper scrub and then apply a hair growth product, it will absorb better and begin to act faster. It happens because scrub removes the outer layer (stratum corneum) of the skin.
Don't forget to cleanse your face skin daily. Wash your beard with shampoo or soap. You should understand that ordinary shampoo won't be useful, as it's meant for other purposes and may overly moisture your beard. Rinse your beard with the decoctions of chamomile or sage. Such procedures help beard to absorb useful substances and become more malleable.
If you want to accelerate beard growth, use castor or burdock oil (see the products). For beard care and mitigation, use olive, almond, coconut, linseed oils (see the products). You can also add essential oils to your daily care. They have many useful properties, but the most important is that you will smell good. With such a course of aromatherapy, you will calm your nerves, and itching won't be that annoying.
Advice: Before you apply the oil, thoroughly steam out the face and hair. It will help nutrients to penetrate deeply through the open follicles.
By the way, do not neglect styling products as balm, foam, or gel. The usage of these products is essential, especially if you grow a beard for three months or more. Without them, your beard might become naughty and curly.
You tried a lot, but the result is not good enough?
For several months, you tried your best to get the desired result - you groomed, moisturized, and feed your beard with various growth oils, but the density didn't appear. What is the reason?
Whatever you do, you cannot escape the influence of genetics on your life. Genes affect almost all aspects of our body functionality, and beard growth is not an exception. If none of your ancestors was famous for dense beard, don't expect that you will be lucky.
Have you ever noticed that in some nationalities, beards grow on men exclusively on chins? Other nations have an overly dense beard. It happens because of genes.
There is no scientific proof that your overall health directly affects beard growth. However, it might be the case. Chronicle diseases or a lack of vitamins may affect your overall health condition and consequently be the source of a patchy beard.
If you are stressed all the time, do not sleep enough, have problems with your job, or in private life, then this might be the answer why your beard doesn't grow as it must. It would be notably stupid to urge you to leave your job or break up with your beloved one. However, we have some advice that might be useful in any case.
Limit the consumption of alcoholic beverages, quit smoking, and eat healthy food - nuts, cereals, meat, dairy products, and vegetables.
Regular sports activities will increase the level of testosterone in your body, which may affect your beard growth.
Conclusion
If you want to get rid of your patchy beard, there are only two efficient methods. The first one is a transplantation of hair follicles. However, you should think long and hard before you decide to choose this option as it is expensive, and surgery has some risks.
The second option is much better, and we recommend it. Use Minoxidil for a beard to thicken your beard in a relatively short time. See our article about Minoxidil for a beard.