A beard and mustache are stylish elements of a modern man's image who wants to look attractive and masculine. You can grow a beard in a few months. For the beard to look neat and emphasize the pride of its owner, you must know how to shape it. You can choose any style and length, but without high-quality tools, you won't be able to get the desired results. Therefore, every bearded man needs to have a decent kit of beard trimming and shaving instruments.
What should we use to shape a beard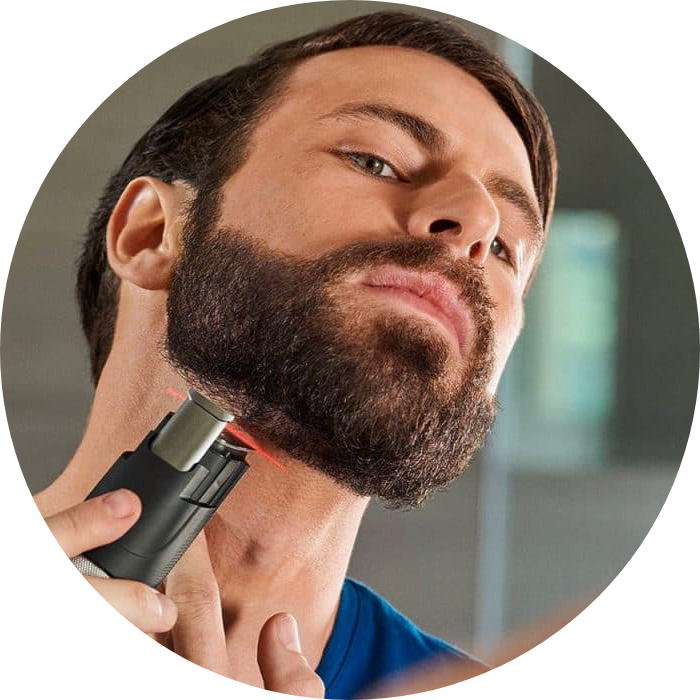 The easiest way to shape your beard is to use a trimmer. You do not need any special skills to operate this device. It comes with nozzles that allow you to achieve the hair length you need. Ordinary haircut clippers are not very useful. They leave some of the hairs uncut and can injure the face skin. A straight razor can be used to shave hard-to-reach areas, but you should be experienced in its usage.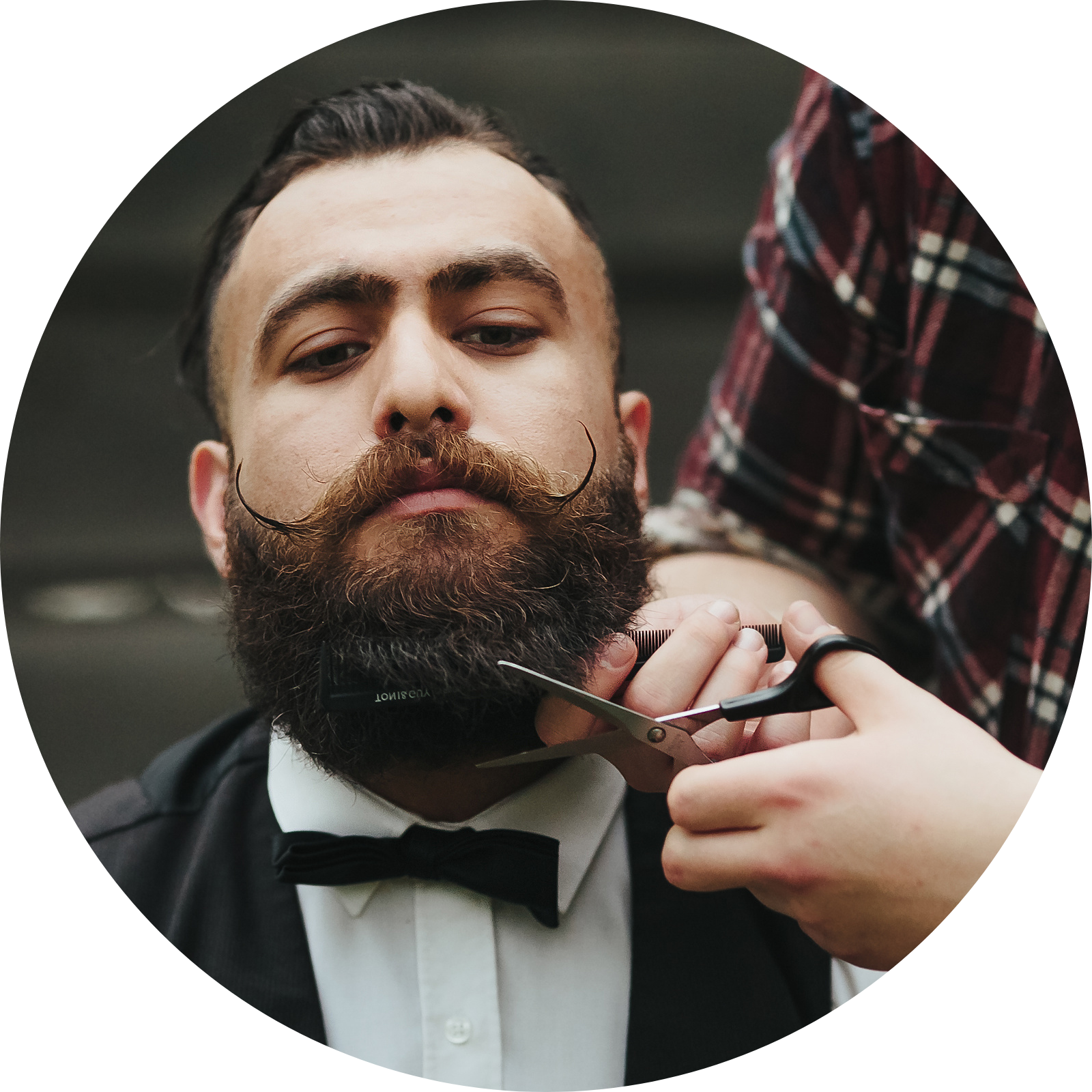 Before the invention of the first electric trimmer, the only way to trim a beard was a barber's hairdressing scissors. However, scissors are still vital instruments in a beard shaping process, and every barber should wield this tool professionally. Even if you use only a trimmer, this tool can quickly cut long strands and trim edges. You also need a comb, which allows you to pull hair and achieve an even cut.
A brief overview will help you decide which tools to purchase in the first place and why they are essential to have. Various factors have an impact on this decision, including your experience with beard grooming and the condition of your beard. Moreover, it is equally important to take into account the circumstances in which the procedure is performed. The minimal kit for shaping a beard includes several items:
Fine-tooth comb;

Scissors or a trimmer;

Razor (any type).

1. Scissors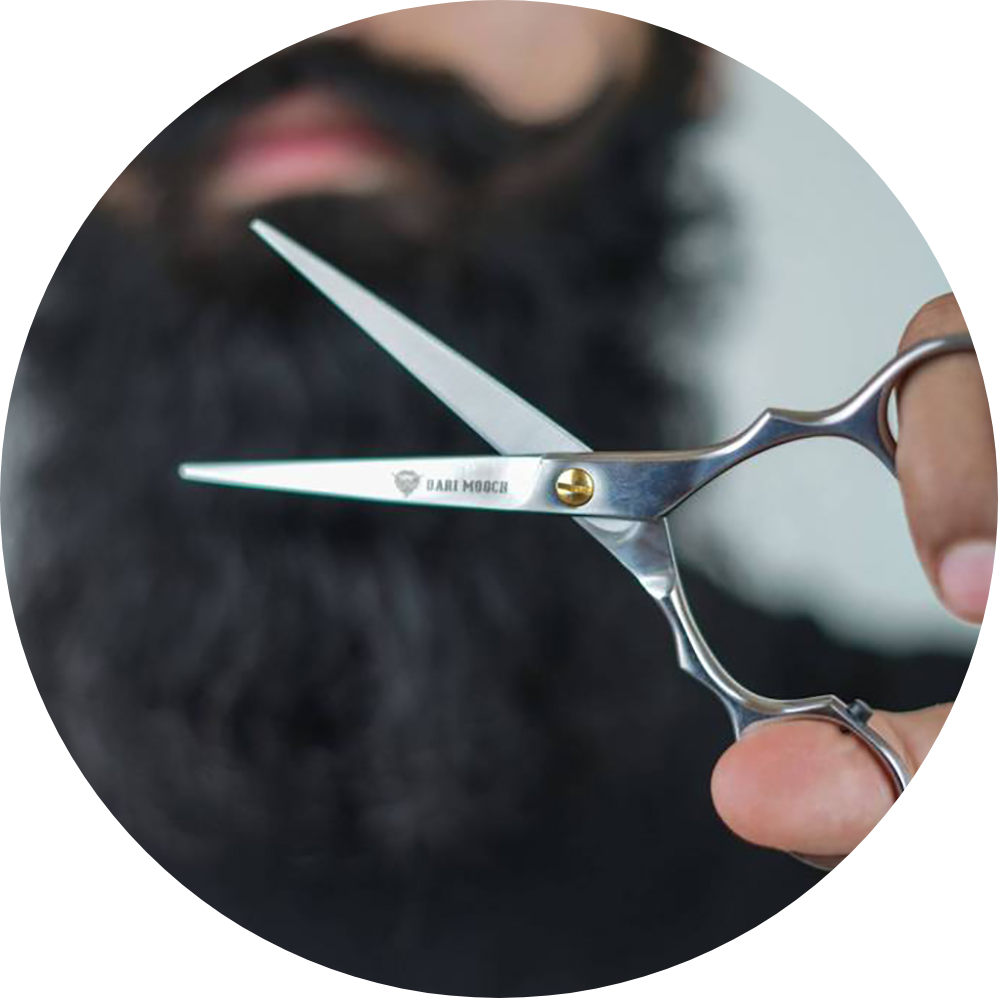 To shape a beard completely without a trimmer, you will need two types of scissors - cutting and thinning. If a beard is long enough, then only with the help of this tool, you will manage to cut off long strands. Barbers use professional scissors that have at least 16.5 cm long blades, which allows you to cut long strands evenly.
Do not even think to save money and trim your beard with kitchen scissors, because they cannot cut the hairs evenly. Professional scissors for hairdressers and barbers have handles with rings of different lengths. Furthermore, one of the blades is straight, so the hair is cut off without much effort. It is much more comfortable to hold such scissors in your hand than ordinary ones.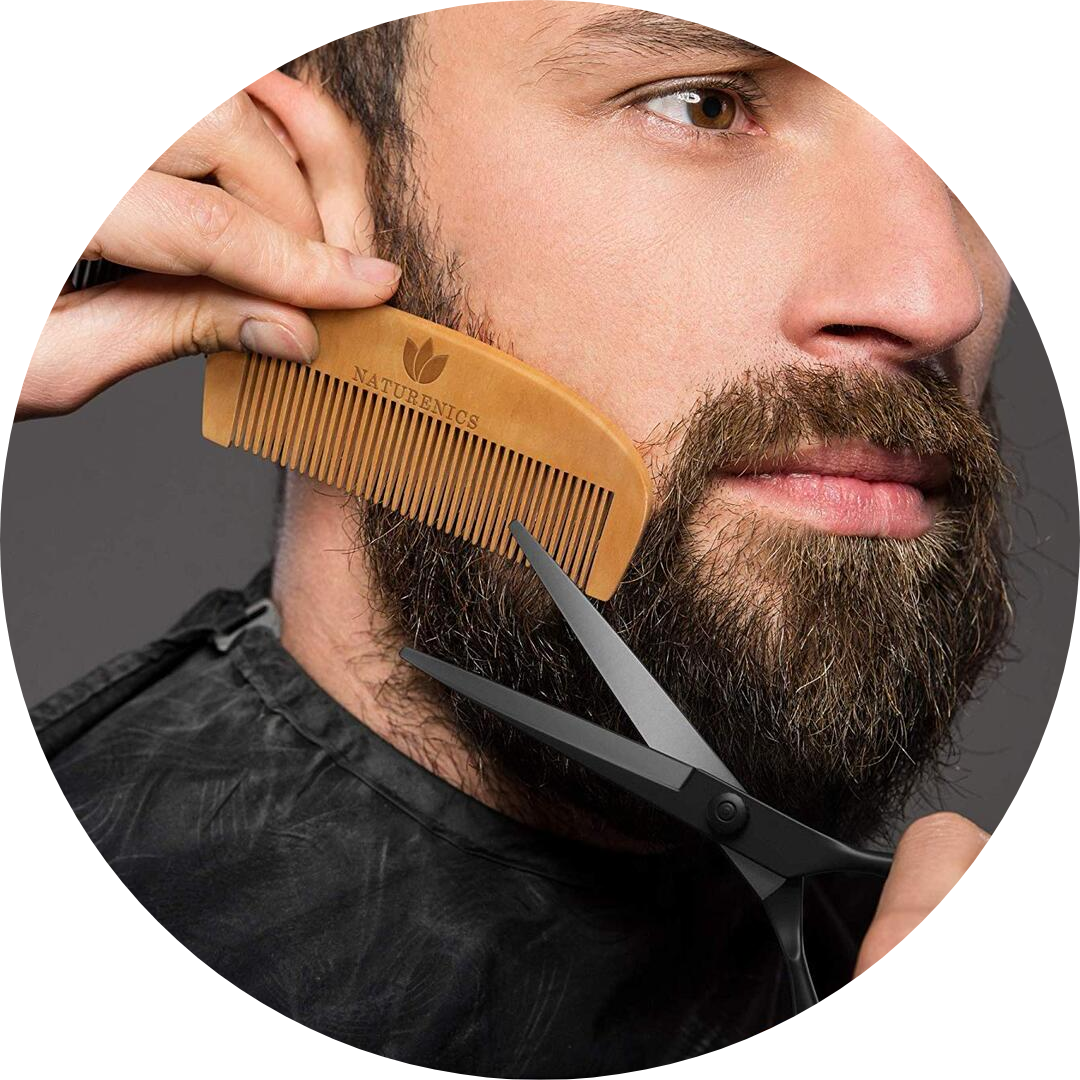 Scissors are defined by the following parameters into several types:
Depending on the position of the handles - symmetrical, regular asymmetrical, or with a straight blade.

By the number of rings - with two or three.

Left-handed or right-handed - based on which hand you use.

Blade type: beveled edge, made of alloy or convex, made of stainless steel or designed for the pros.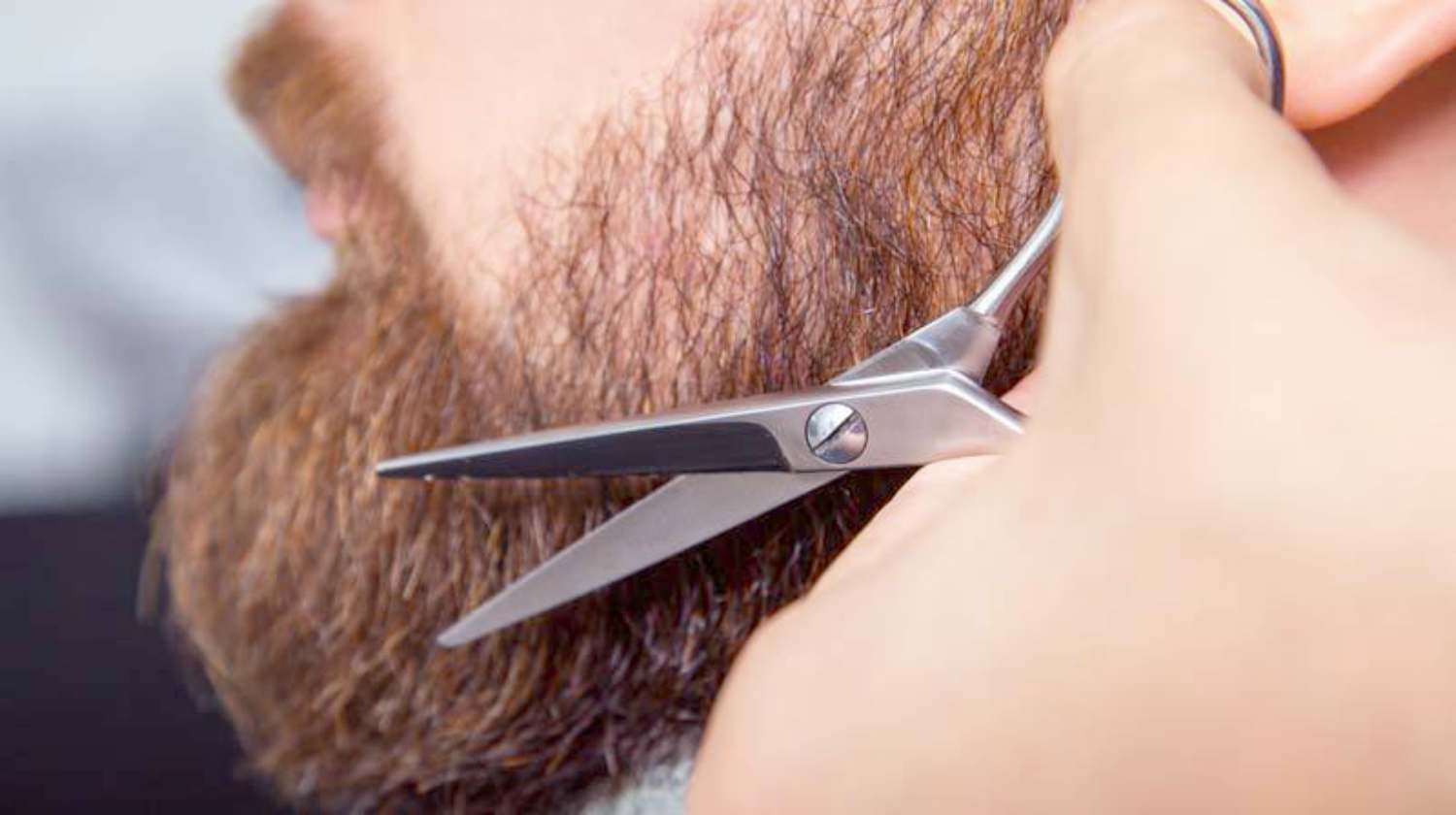 It is advisable to choose a model with blades of at least 7 millimeters length. Then the shape of the cut will be acute. Thinning scissors cut only part of the hairs for a more natural-looking beard and add volume. It is significant to take good care of the tool, sharpen it periodically, and keep in a dry place. You should not leave them in the bathroom, where they will rust.
If you need more information about scissors, you can read our article - Scissors for a beard: How to choose?
2. Combs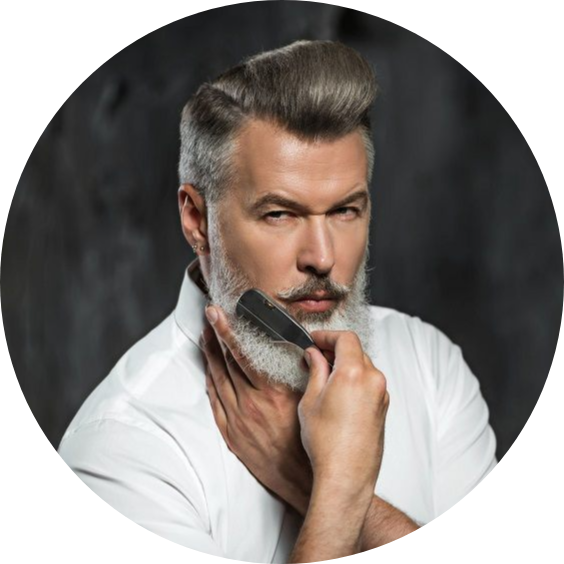 You should have several combs - one fine-tooth comb for clipping and one that will be used for combing wet hair. The thicker and longer a beard is, the longer the teeth of a comb and the distance between them should be. Choose a comb for cutting hair that is flexible, but not too easily bent. For combing, choose wooden or metal combs that do not absorb electric charge.
Check out a new Bossman comb!
3. Trimmer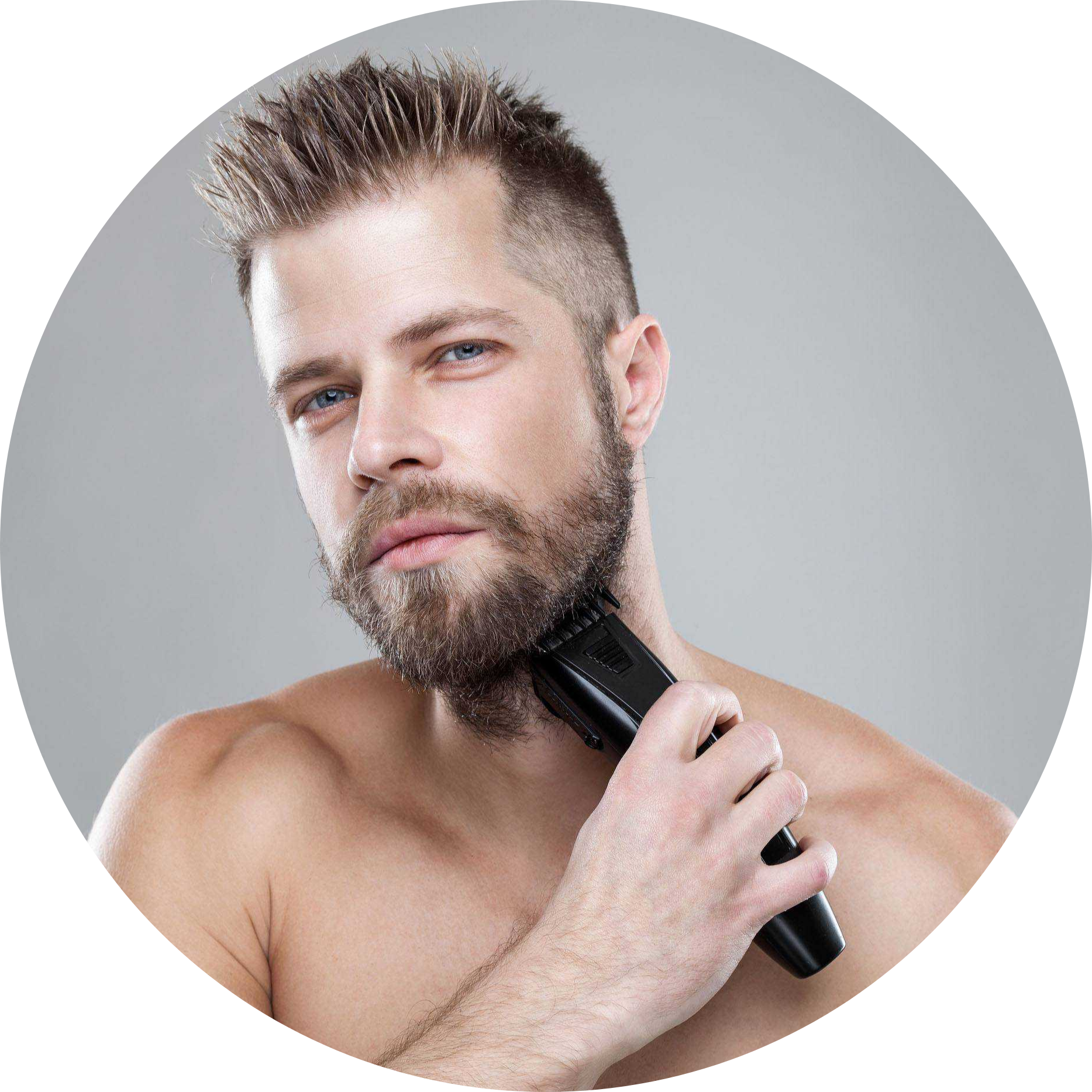 This is a small hair removal machine that does not cut hair at the root and leaves 0.5 mm. With the help of a trimmer, you can not only trim your mustache and beard but also get rid of hair in your nose and ears. Some multifunctional models can clip hairs on your head as well. In the recent past, many manufacturers started to produce trimmers designed only for beards.
Depending on the type of mechanism, trimmers are divided into several classes:
Rotary

- Being almost silent, they are equipped with a powerful motor from 20 to 45 W. These machines can work continuously for a long time. That is why they are often used by professionals in barbershops. Such trimmers cut long coarse hair with ease, and are accepted to be the most durable.

Magnetic

- the cheapest option with a motor power 9-15 W. When using such a device, vibrations are transmitted to the hand. It produces much noise comparing to other types. But if you buy a professional one, it will make less noise and vibration.

Rechargeable

- these trimmers are ideal for edging. They are quiet and lightweight. Power is about 12 W. They can operate both from the mains and with a battery. It is convenient to take them on a vacation or a trip. Usually supplied with multiple blades.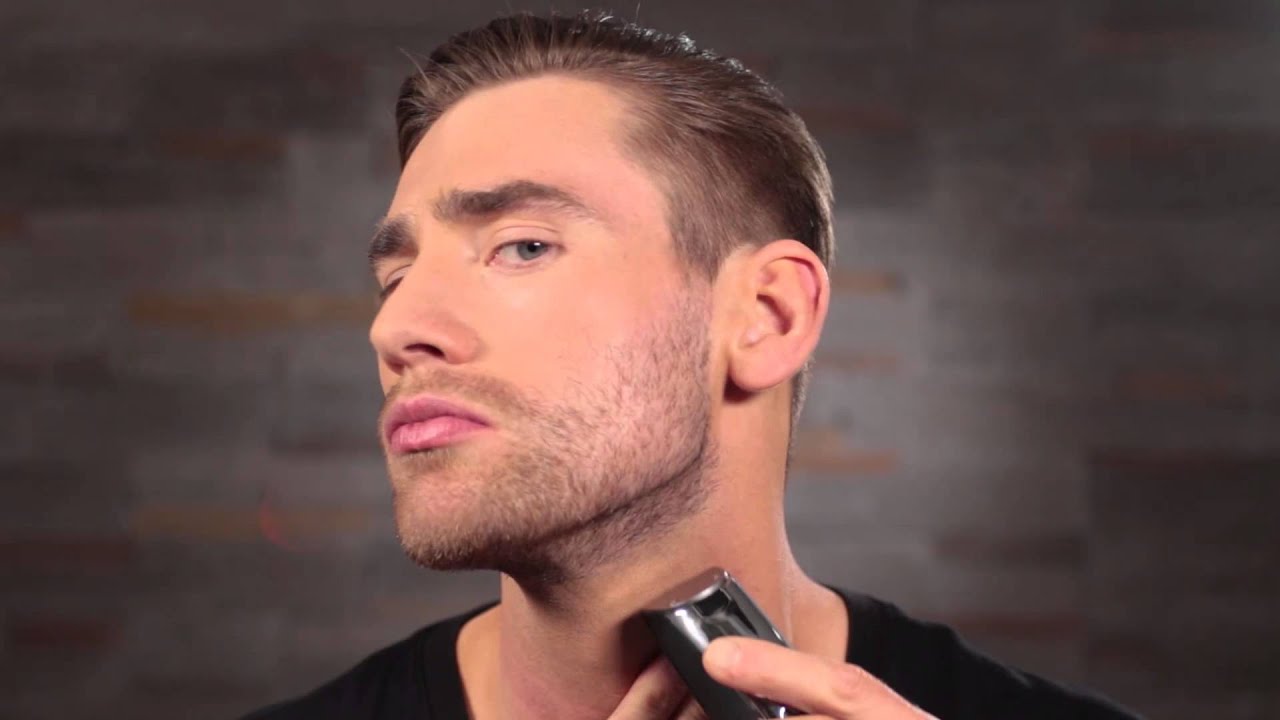 Speed modes
More power of the device means a higher frequency of the blade movement. A low-powered machine may not cope with thick and stiff hairs. Professional barbers use trimmers with a power of at least 20 watts. For home use, 10-12 watts is enough.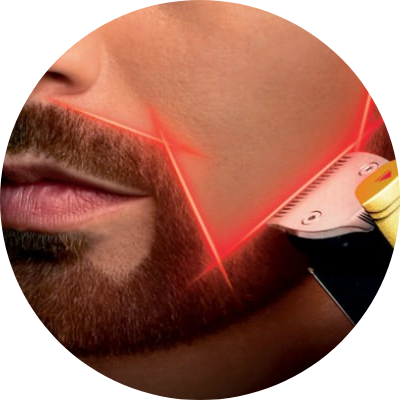 Note that trimmers have additional features:
Built-in laser pointer

- allows you to create a symmetrical beard. Even beginners can neatly trim their beards with such a device.

Hair cut length adjuster

- provides a more accurate result.

Charge indicator

- available in rechargeable models.
Nozzles
Most of the trimmers are equipped with replaceable plastic nozzles. You can choose an appropriate nozzle depending on what length of hair you want to cut. By using these tools, you can get to the most unreachable areas without the fear of cutting extra hair. Only experienced trimmer users can cut their hair without nozzles.
If you need more information about trimmers, you can read our article - Beard trimmer: How to choose?
4. Shavette or Razor
Shavette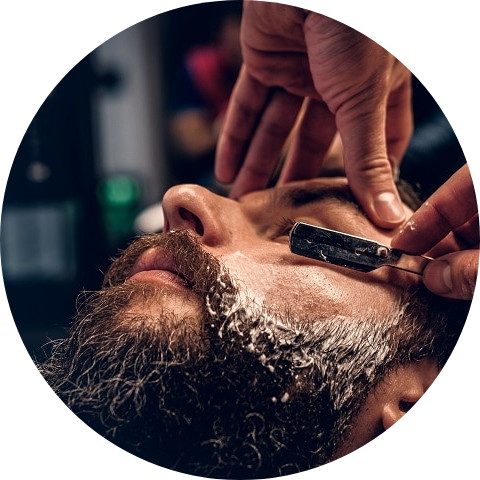 Its appearance and design are very similar to a straight razor. The main difference is that the shavette is loaded in with disposable razors, like a T-shaped one. Shavettes are divided into two types - narrow-profile and wide-profile. The narrow profile is loaded in with special elongated blades or half a blade that is used for a T-shaped razor. In the case of a wide-profile shavette, you can use a whole one instead of a half blade.
Pros of shavette:
Looks stylish and reminisces medieval instruments.

Shaves as effective as a straight razor, but doesn't require sharpening.

Any blades from a T-shaped razor can fit.

Lightweight and compact.

Does not require disinfection.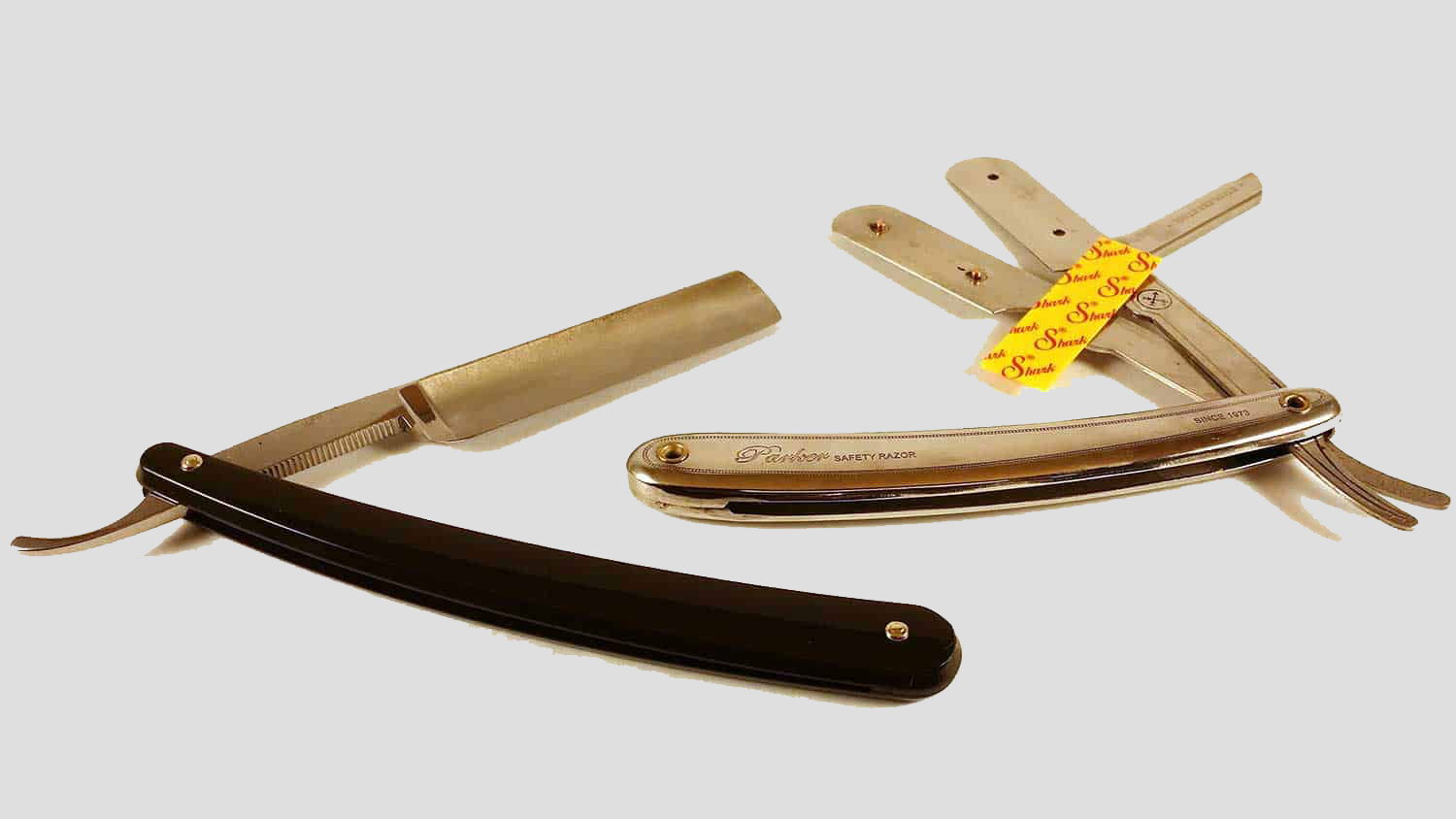 Pay attention to the shape of the handle and the material from which the razor is made of. If it is inconvenient to hold, or it consists of bending metal, do not purchase it.
When shaving, the shavette should be held at a lower angle to the skin than a straight razor. Otherwise, you can involuntarily cut your skin.
If you want to transform the shaving process into a real men's ritual, you can buy a straight razor. It is a traditional tool that only the dedicated fans of beard grooming will acknowledge. You can see our article about straight razors.
Razors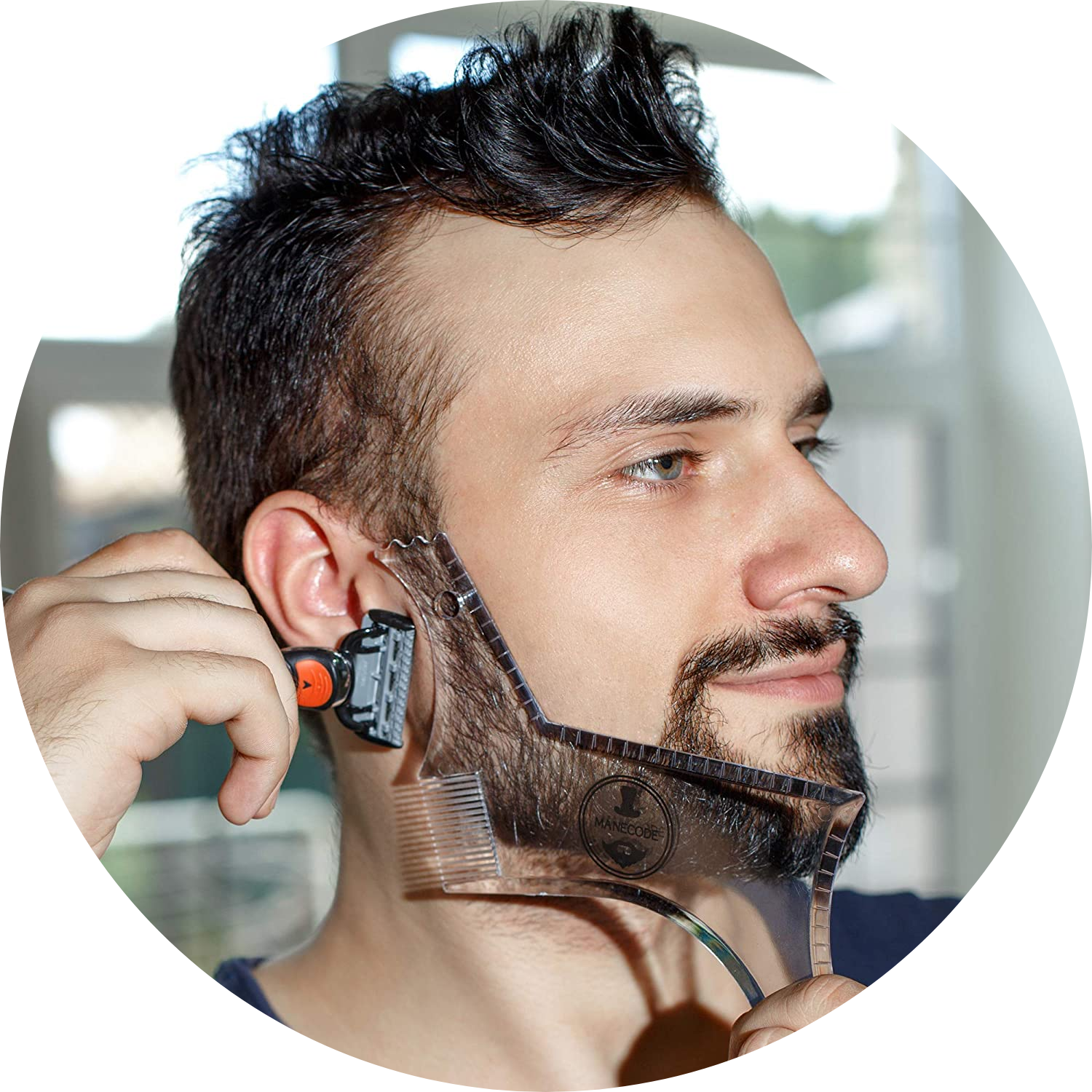 You cannot cover your entire face with a beard. There will be areas that need to be completely clean-shaven. But perhaps you have not yet bought a shavette or a straight razor like a real barber. In this case, you can buy a razor of any type - a T-shaped, disposable, or cassette. Always get new blades, don't shave with old ones. In order not to cut too much hair, you can use specific templates. They cover part of the face to achieve the desired beard shape.
Remember to steam your skin and apply shaving cream before shaving.
Blades for razors
The T-shaped razor or shavette can be loaded with steel or carbon blades. Even if you have a cheap Chinese razor, the very best branded blades can be loaded in it. Depending on the characteristics of the metal, the cutting edge can be safe or straight.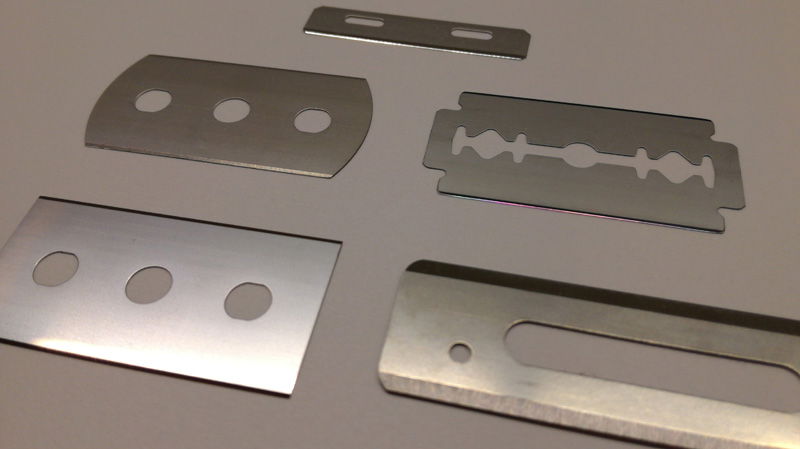 If the hairs are thin and sparse, a safe blade will do its job and won't cut your skin. However, the owners of a thick stubble can get rid of facial hair only with a straight blade. It is vital to change the blades after every third or fourth shave. After all, sheaving with a blunt tool is a direct path to cuts.
Beard edging: step by step
Once the style of a beard or mustache has been chosen, you can start creating a new look. Armed with tools, you need to do the following:
Wash and comb your beard upward from the chin to raise the hair. Stand in front of a mirror and carefully examine your face to assess in advance which areas need to be shaved first.

First, cut or shave off the hair on your neck and cheeks. Move from the ear down. Be careful not to cut too short. The longer the beard, the more hair should remain on the neck.

You can now trim your mustache by lifting your hair with a comb.

Next, you need to trim the sides.

The next stage is the shaping of sideburns. If you have a round face, it is advisable not to cut your hair too short in these areas.

Trim the hard-to-reach areas near your nose and the corners of your lips.

Get rid of any remaining hair on your face and trim the edges of your beard. If you are not experienced in edging a beard, it is best to use a trimmer instead of a razor.

Rinse your beard with warm water, and wait for the hairs to dry.

At the end of the procedure, clean the instruments from hairs and dry thoroughly. The trimmer usually comes with a cleaning brush and oil to lubricate the blades.
A bit of valuable advice: To reproduce a complex shape, you can first draw an outline with a cosmetic pencil. Then remove the hairs in the remaining areas.
Conclusion
After examining the characteristics of the various tools, you can quickly find your set for trimming a beard and mustache. At first, it will not be easy to achieve perfect symmetry, so it is advisable to grow a long beard first. Then small mistakes will be easy to correct. With practice, you can create a goatee, Hollywoodian, or any other stylish beard.