In this article, we discuss the top three minoxidil brands on the market. We picked these brands based on selling, customer reviews, and overall rating. As you probably guessed, these are Rogaine, Kirkland's Signature, and Amazon Basic Care minoxidil topical solution.
Let us compare these 3 based on the price point, how efficient they are, and ask the question, is there really much of a difference? With that said, let us dive into it.


Rogaine
So first up, we have Rogaine. It is the first topical brand approved by the FDA to help regrow hair in both men and women. It has about 20 years of experience on the market with multiple clinical trials and success stories.
This is why it is ranked as the #1 industry leading and dermatologist-recommended brand for hair loss treatment. It is also quite expensive for 60ml, which is a one-month supply coming in at around 28$. However, just like any other brand on the list, a 3 or 6 month supply comes out a lot cheaper.
If you visit Amazon or any other platform selling Rogaine, you will find that most reviews are positive. Understandably, some customer reviews are negative. People may complain about itching and that it is not being effective after a few weeks of use. But as you know, minoxidil or other topical hair loss treatment options needs time to achieve some results.
Hair regrowth takes time, and it does not come without its complications and side effects. Itching is one of them. To bypass that, you can check out our blog about rosemary oil. It reduces itching and stimulates hair growth as well, so it works nicely in conjunction with minoxidil.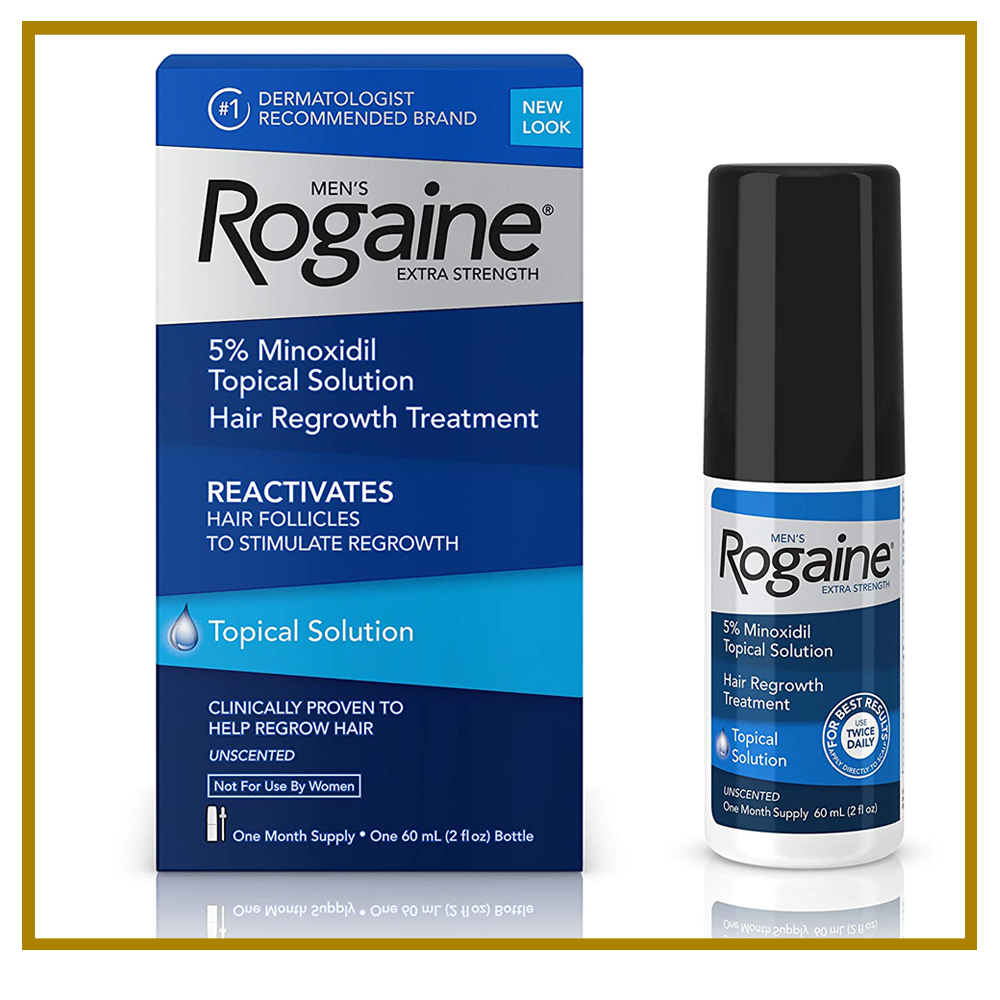 Kirkland Signature
Next up, we have Kirkland's Signature minoxidil brand. It should be no surprise that Kirkland, which is both a generic version and benefits from the Costco membership discount, is significantly cheaper than Rogaine.
Rogaine is approximately $30 a month. Although, as we mentioned above, with Rogaine, it gets a lot cheaper if you have a subscription or buy them in bulk.
Depending on how much the discount is as your local Costco, you can get 6 to 12 months of Kirkland Minoxidil for the same price as 2 months of Rogaine. And obviously, price matters in a product like this, especially considering you will be using it for years to come. It is a real advantage that Kirkland is significantly cheaper and can be bought in bulk.
But when it comes to availability, Rogaine can be bought almost anywhere. While the Kirkland minoxidil brand is available majorly through Costco. You can order it through Amazon, but it is noticeably more expensive. Although even ordering through Amazon and not getting the Costco discount, Kirkland Signature is still slightly cheaper than Rogaine.
Also, unlike Rogaine, Kirkland signature contains only a 5% minoxidil solution. As you know, 5% is optimal for men, and women use it rarely.
Unlike Rogaine, which has both a 2% and 5% minoxidil solution, that makes this brand a bit more inclusive.
For notion, 50 million men and 30 million women suffer from hair loss cases related to Androgenic Alopecia in America. This is important to know. Primarily, dermatologists and doctors recommend a 2% minoxidil solution for females. As clinical trials have proven that it is a lot more efficient for women. Besides, some women prefer using a 5% solution, and honestly, the only difference is it is more potent. It is not really gendered specific.
It is worth noting, and this is crucial information! Some Amazon reviews for Kirkland Signature tell us that there is a significant difference in quality between the one bought at a Costco and others available online.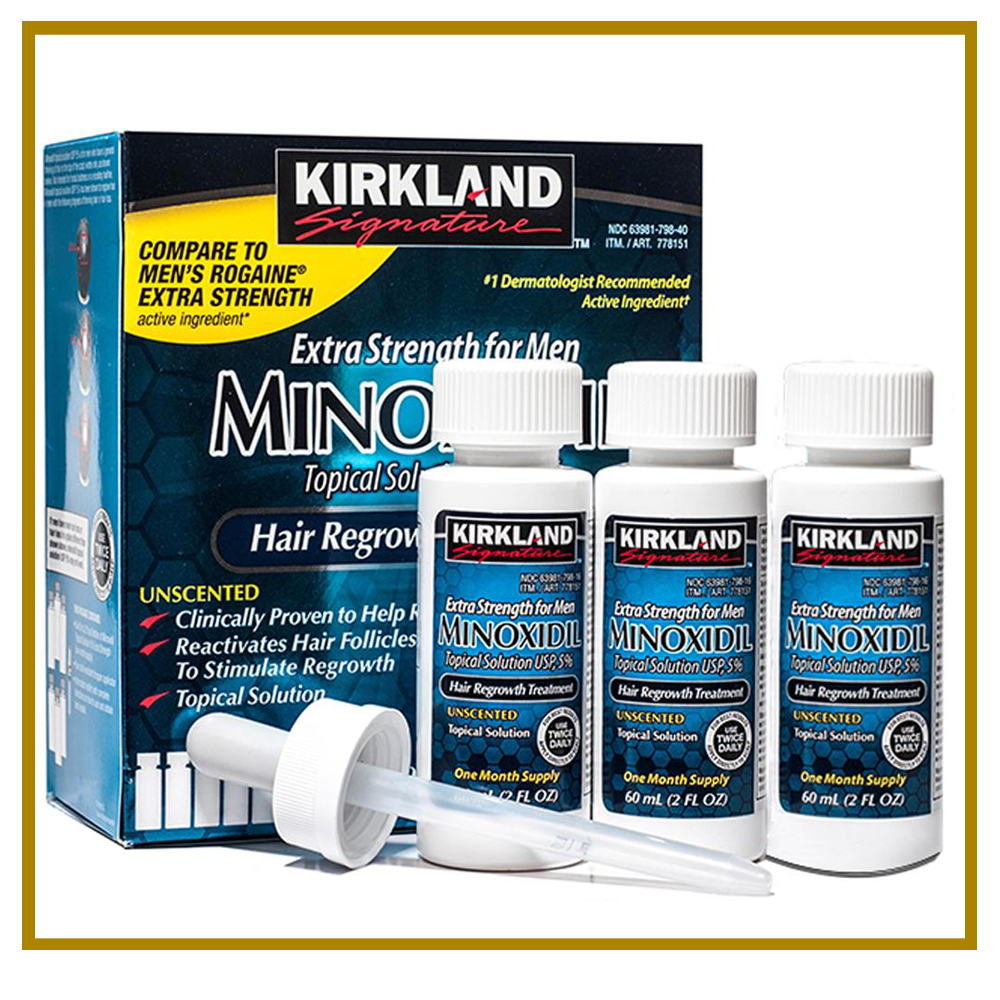 Amazon Basic Care minoxidil
And finally, we have an Amazon Basic Care minoxidil solution. Which is the same basic jam. It operates under the identical mechanism of action as any other minoxidil containing topical solution or foam.
Since the active ingredient minoxidil is the same within each product, each brand differs from inactive ingredients. However, the difference between products is typically negligible.
Amazon Basic Care minoxidil is probably the most affordable and pealing out of the bunch given that a 6 month supply comes out at 31.99$, which is by far the cheapest of the bunch. And based on customer reviews, it is truly promising.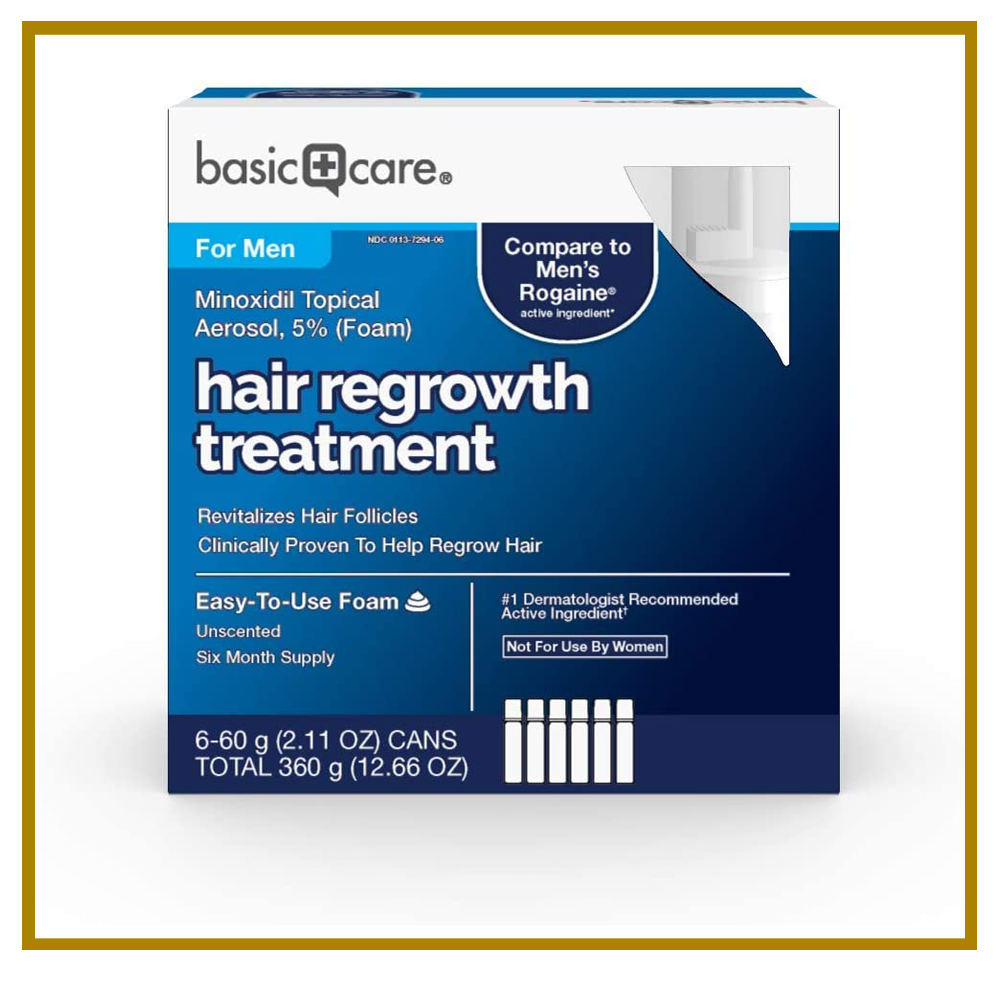 Conclusion
And there you have it! Three brands are all great to use. Seemingly Kirkland brand and Amazon's minoxidil seem more appealing due to their price point. But then, there is the question: why do people keep buying more expensive brands like Rogaine?
Well, Rogaine contains something called propylene glycol, which is a common food additive. Studies have shown that propylene glycol helps with the absorption rates of medicine. So, in theory, it helps with the absorption rates.
By and large, it all comes down to the fine details since the base of any hair regrowth topical solution or foam is minoxidil. It only varies when it comes to percentages. But yet some people respond well to one brand and not with others.
Although it is an over-the-counter medication and can be bought without a prescription. It is always best to consult a dermatologist before making any purchases if you are looking to start your hair restoration journey.
Be sure to let us know how many of you guys have been using minoxidil for hair regrowth, which brand is your preferred one, or if you are thinking about trying it out down in the comment section.