If you suffer from hair loss, and neither hair transplantation nor medication treatment is an option for you, then there is an easy way out – it's hair fiber.
What is Hair Fiber?
Hair fiber is a unique cosmetic tool. It may not help you with hair growth, but it can ideally hide bald patches on your head. Hair fibers are made of a protein known as keratin, which is the same that is contained in real hair. By applying it, your hair becomes dense, and it's almost impossible to spot any imperfection.
How does Hair Fiber work?
The main idea is that hair fibers fill bald parts of your scalp with artificial hair, which is visually very hard to distinguish from the natural hair. That's why they are known as hair concealer or hair camouflage.
These hair fibers stick to the natural hair as they are charged with static electricity. Thus, thin hair seems much fuller and darker as thousands of tiny fibers cling to the hair. Unquestionably a genius idea, at the same time so simple and safe.

Who can use it?
You need some hair on your head to use it. You cannot apply it on completely bald spots as fibers need hair to stick.
Hair fibers have much use for people with dark hair, as baldness is more visible when the color of the scalp drastically differs from the hair color.
It's more relevant for women, as men can get used to baldness, but for women, it's a total disaster.
Do hair fibers have different colors?
Hair fibers have all variations of natural hair colors. You can choose one that matches the color of your hair. You can also mix two colors, as it will give out better results. If you apply two colors, start with the dark one to act as a base, and then use the lighter one.

How should I choose Hair Fiber?
Safety. You should realize that cheap, low-quality hair fibers are not possibly able to deliver the desired results. Moreover, they sometimes can cause severe damage to the appearance and health of hair. Therefore, we recommend you to choose hair fibers without chemical substances.
Profitability. Branded hair fibers are relatively expensive. However, due to the high-quality composition, they expend less amount of fiber to achieve the best results. It ultimately allows the customer to save well.
Water and wind resistance. Pay attention to the fact that not every hair fiber has this feature (probably, the most important one). High-quality hair fibers allow you to maintain the presentable appearance of hair even in strong wind and rain.
Usage with other medications. All of us who undergo medical treatment should choose hair fibers with this essential feature. Hair fiber must be safe when you use it in conjunction with Minoxidil, Finasteride, or other medications.
The ability to mix colors. Sometimes you need to use two different colors to get the color of your natural hair. Not all hair fibers have this feature.
Natural components. Always use hair fibers that contain only natural ingredients like keratine. For example, you may find hair fibers with an artificial viscose. In the long run, these fibers may damage your hair and cause hair loss.
Which brand is the best?
There are many brands of hair fibers on the market. It won't be a problem to choose an appropriate one with the best price-quality ratio. However, be cautious – some cheap hair fibers use chemical substances instead of natural keratin. Be aware of this fact, as it may damage your scalp and facilitate the hair loss process.
We can offer you these two well-known brands. They have high quality and reasonable price.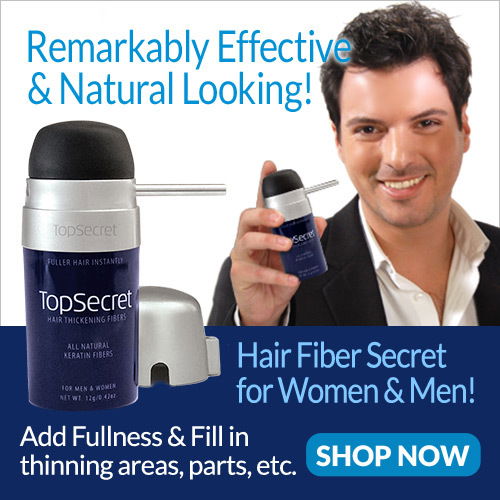 Their natural keratin fibers (not a powder like many other brands) are undetectable and look more natural, like your real hair. Dermatology and allergy tested, they won't clog hair follicles, and can be used in conjunction with Minoxidil, Finasteride and other similar products.
Check price:
For international customers: Amazon
For US customers: Top secret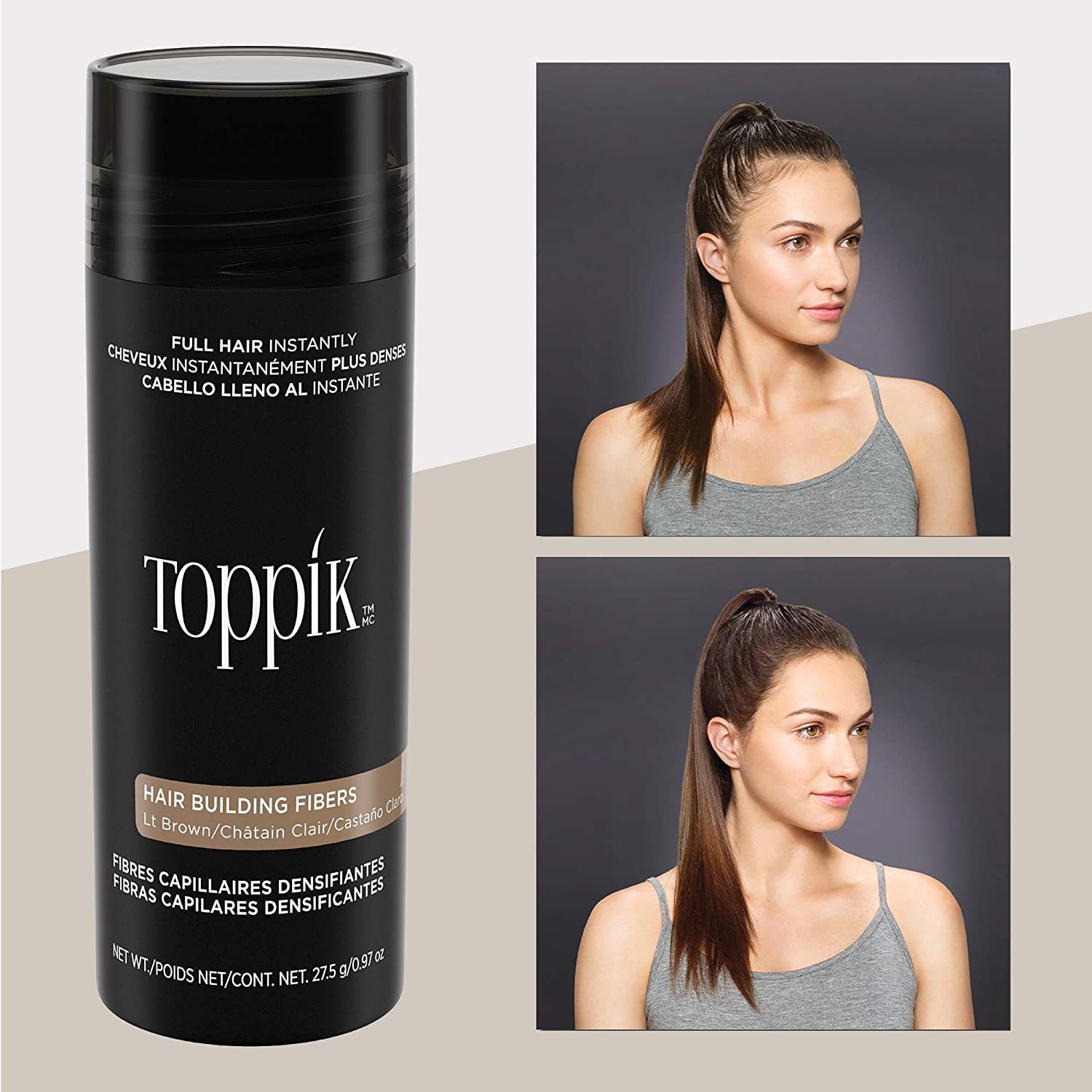 Toppik Hair Building Fibers are made of keratin protein, the same type of protein that is found in hair. Designed to make hair look thicker and fuller instantly, Toppik's keratin Hair Fibers have a variety of accessories that will make applying them easy and also help to enhance the overall look of the hair.
Check price:
For international customers: Amazon
For US customers: Toppik