Dull, weak, and brittle hair is not only a cosmetic problem. It indicates that the body urgently needs an additional intake of vitamins. Let's discuss which vitamins are the most efficient against hair loss and how to choose them!
Why does hair need vitamins?
The lack of vitamins immediately affects the condition of hair and nails. It's the very first sign of hypovitaminosis. The lack of nutrients is the main reason why nails begin to break and peel, hair falls out, loses shine and elasticity, becomes dry, and grows very slowly. Dry scalp is also one of the indicators of vitamin deficiency.
Don't think that the lack of vitamins is only a winter problem. Most of the vitamins vital for hair health do not present in fruits, vegetables, and berries. Mostly, they are in animal products, vegetable oils, seeds, and nuts.
Many of us suffer from a lack of vitamins. If you want to have beautiful, healthy, and dense hair, you cannot count only on masks and shampoos - you need to strengthen your hair from inside.
Below we will discuss various vitamins depending on the purpose of use.
Vitamins against hair loss to keep thickness
If you noticed that hair is thinning, and whole strands remain on a comb, the best choice would be the complex that contains vitamin E and biotin.
Vitamin E is generally called the vitamin of beauty, which is essential for healthy hair and skin. It improves blood circulation and, therefore, nourishes and strengthens hair follicles.
For its part, biotin makes hair follicles stronger and stimulates metabolic processes. It prevents the appearance of brittle hair and split ends.
Vitamin C usually presents in the composition of such complexes. It's an excellent antioxidant, which doesn't accumulate in our body and must be received regularly, as well as D3 (calciferol), which reduces the amount of hair falling out.
Vitamins for hair growth
The main vitamin that accelerates the speed of hair growth is vitamin B5. We need pantothenic acid to speed up regeneration processes, which is responsible for skin health (dermatitis is a characteristic sign of a deficiency of this substance). B5 has another impressive feature. We need it to preserve pigmentation of the hair shaft. The lack of vitamin B5 can cause early graying.
It's almost equally important to ensure that the body has enough vitamin A and zinc. Vitamin A accelerates hair growth, but also it helps to maintain hair elasticity and shine. Zinc is an element that facilitates the body to absorb vitamin A, as well as to accelerate the growth of new hair. Besides, zinc contributes to the rapid healing of skin lesions and strengthens the body's defenses.
Vitamin complexes for hair growth can also contain manganese, which stimulates the work of follicles, metabolism, and cellular respiration.
Vitamins for hair strength and beauty
Besides ceasing the hair loss processes, vitamin complexes can also make hair much more beautiful. Hair thickness is a genetically determined feature, but correctly selected vitamins can improve it and contribute to the growth of dense, shiny, and healthy hair.
Complexes designed to strengthen hair almost always contain vitamin B6 or pyridoxine. We need this vitamin for the beauty of the skin and nails. Moreover, it facilitates the normal functioning of the nervous system. With a lack of B6, seborrhea is often appears - another factor that impedes the growth of healthy hair.
Vitamin complexes for hair strength and beauty sometimes contain less common components as inositol. It's a vitamin-like substance that has a healing effect on the skin and hair roots preventing their loss.
Vitamin complexes for all sorts of hair problems
It's hard to assemble a full-fledged complex of the necessary vitamins on your own. That's why it's easier to buy a multi-vitamin complex that can solve all the problems at once. The proper combination of vitamins allows them to improve hair condition in general. It includes hair loss treatment, follicles strengthening, new hair growth acceleration, scalp condition improvement, and blood circulation activation in small capillaries. Moreover, in a few months, you will notice that hair has become more shiny and docile. Multi-vitamin complexes for hair contain all the substances mentioned above with the proper dosages.
The best multi-vitamin complexes for hair on the market:
1) Folexin
Folexin is a formula made with natural ingredients that helps to support overall hair health, thus supporting the natural process of hair growth and the visible quality of your hair. If you're looking for a way to supplement and nourish your hair's health, or provide support for your hair's natural growth process and quality, then Folexin may be the solution for you.
Buy: International store.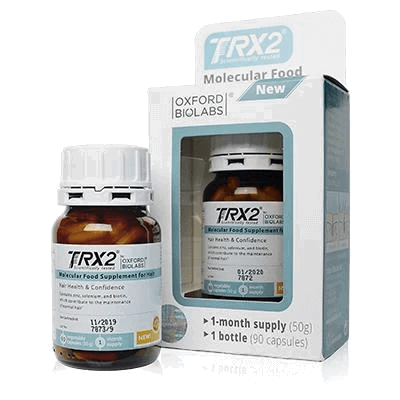 2) Oxford Biolabs - TRX2
Oxford Biolabs® paved the path to healthy hair by introducing the first hair supplement that contains Potassium chloride, Carnipure, Niacin, and Biotin. Compared to other supplements, TRX2 contains only naturally-based ingredients that benefit the hair and scalp by stimulating potassium channels and improving blood circulation. With better hair care and TRX2®, those experiencing hair loss and thinning can see results within 6 months.
Buy: USA store or International store.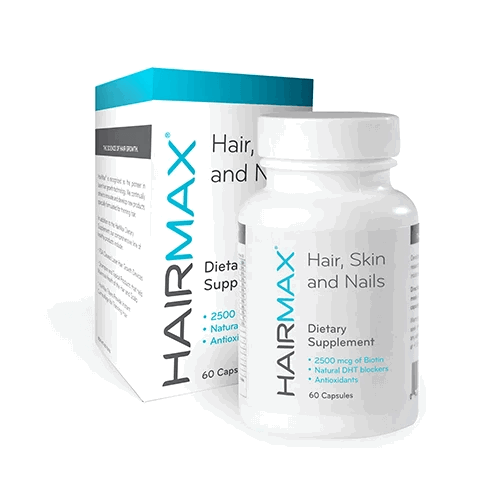 3) HairMax
HairMax natural complex is blended with clinically proven hair strengtheners to help support healthier hair. HairMax Dietary Supplements provide essential nutrients to help your hair look its best! They also strengthen nails and contribute to healthy looking skin. HairMax Dietary Supplements Contain: 2500 mcg of Biotin per serving to help produce keratin, increase hair elasticity and help maintain hair health; Niacin helps improve blood circulation to the hair bulb; Contains DHT blockers (Beta Sistosterol & Saw Palmetto).
Buy: International store.
Additional options:
If you want to intensify the effect of vitamins, you can take them also externally. Many professional brands have hair products in ampoules. Apply the substance to the scalp and massage until the skin completely absorbs it. Moreover, you can use vitamin shakes through mesotherapy.